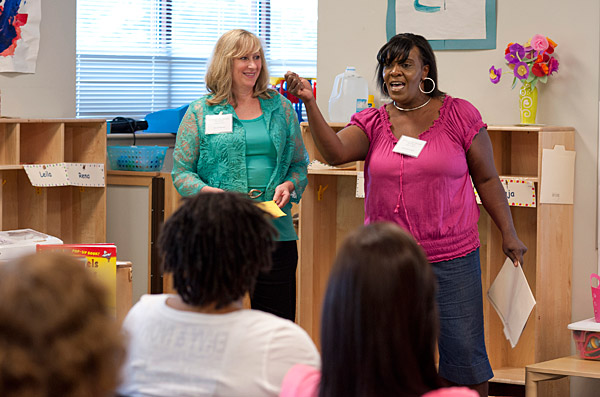 Learning through play
Play makes Jack a smart boy
2:08 p.m., June 8, 2012--Splashing in water. Banging on a drum. Digging in dirt. These are all fun activities for children, but do they help them learn?  
At a time when play is disappearing from many schools, research now shows that allowing --or even encouraging -- young children unstructured playtime can provide a valuable role in their development.
From graduates, faculty
As it neared time for the processional to open the University of Delaware Commencement ceremonies, graduating students and faculty members shared their feelings about what the event means to them.
Doctoral hooding
It was a day of triumph, cheers and collective relief as more than 160 students from 21 nations participated in the University of Delaware's Doctoral Hooding Convocation held Friday morning on The Green.
On June 2, UD's Laboratory Preschool, in partnership with the Delaware Institute for Excellence in Early Childhood (DIEEC) hosted the third annual Jane Davidson Forum on Play. The Play Forum was created in honor of former UD Lab Preschool Master Teacher Jane Davidson, who had an extraordinary ability to teach young children through play. It is designed to help educators incorporate play into their curriculum.  
The half-day conference offered 12 workshops, culminating in a luncheon and panel discussion. Participants ranged from teachers, administrators, specialists and therapists who work with infants up through elementary aged children. Presenters included CEHD faculty, graduate students and undergraduate students, as well as experts in the early education community. 
Workshops included:
"Hey, Teacher! Look what I did!": Promoting Science Learning During Water Play
Play in the World of Autism
Keeping the "PLAY" in Kindergarten
Let's Sing ... Music Play with Infants and Young Toddlers!
Response to the conference was very favorable. 
"The quality of the workshops and the panel discussion was phenomenal. I plan to attend every year, and I'll definitely encourage my colleagues to attend as well," stated Nancy Hetterly, a reading specialist from the Appoquinimink school district.
During the luncheon, a special presentation was made by a student from HDFS 355, "Professional Issues in Early Childhood." As part of a self-selected advocacy project, students contacted elected officials to advocate for a "Play Day." Seven ECE students (Michelle Dickerson, Christine Kuelmann, Kelsey Maier, Danielle Murgolo, Samantha Park, Alex Sadot and Jodi Stark-Thorpe) decided, since Delaware is such a small state, they would petition the governor to declare a statewide Play Day.  
They were thrilled when they received a positive response, with Gov. Jack Markell issuing a proclamation declaring June 1, 2012, as Delaware's Play Day.  Jodi Stark Thorpe, ECE '12, read the proclamation during the Play Forum's luncheon.  
In part, the proclamation stated that, "We value the fact that children who play do better in school and develop cognitive skills that are linked to learning and academic performance, and children who play learn the social skills that help them become happy and well-adjusted adults." 
"I was impressed that the students were able to accomplish this," said Martha Buell, HDFS professor. "The National Association for the Education of Young Children has six core standards for Early Childhood Professional Preparation programs, one of which is engaging in informed advocacy for children and the profession. Clearly, these students have evidenced success in this component of their professional development. I know that Jane would be pleased and proud that they have chosen play as a focus of their advocacy efforts."
The students hope to establish Play Day as an annual event, increasing awareness of the importance of play in early childhood. 
Upcoming Play Initiatives
Proposals are now being accepted for the Conference of The Association for the Study of Play (TASP) and The American Association for the Child's Right to Play (IPA/USA) to be held at the University of Delaware in March 2013.  The deadline for proposals is Sept. 30.
The topic is Play as a Pathway.  Proposals are encouraged from all academic disciplines and may include individual papers, workshops, symposium or panel presentations.
Article by Alison Burris
Photo by Kathy Atkinson