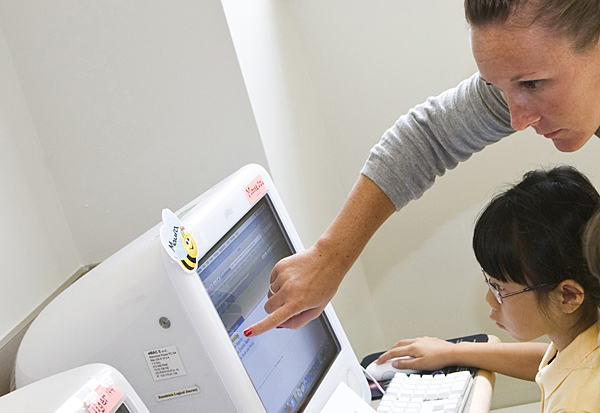 The write stuff
Identifying effective writing methods for first graders
8:54 a.m., July 19, 2011--A classroom full of six-year-olds sits expectantly in front of their teacher.  After reading a story to them, the teacher discusses how the author used specific words to describe the main character. She then asks the children to write their own story that uses the same kind of words to describe a character.
This is just one example of an approach teachers might use to help first graders learn to write. The question is, does it work?
Chronic wounds
UD's Millicent Sullivan and Kristi Kiick have received a $1.4 million grant from the National Institutes of Health for research that could provide a new approach to the treatment of chronic wounds.
Prof. Heck's legacy
The American Chemical Society is highlighting the legacy of the late Nobel laureate Richard Heck, the Willis F. Harrington Professor Emeritus of Chemistry at the University of Delaware with a digital tribute on its publications website.
In an effort to determine the best methods to teach writing skills for first graders, University of Delaware School of Education faculty members David Coker, Charles (Skip) MacArthur and Liz Farley-Ripple will begin work this month on a four-year grant entitled "Investigating the Impact of Classroom Instruction and Literacy Skills on Writing Achievement in First Grade."
A report from the National Commission on Writing states that writing is central to the development and refinement of ideas, and that it is crucial for both academic and professional success. Despite this, the National Assessment of Educational Progress (NAEP) found that over 70 percent of fourth-grade students tested did not meet the benchmark for proficient writing. Even more alarming, the results revealed a large achievement gap attributed to family income. 
Given the lackluster writing performance of American students, many teachers and researchers are interested in learning about more effective teaching practices.
Much of our understanding of how writing instruction is conducted in the primary grades comes from teacher surveys. Teachers report spending more time teaching lower-level skills than composing, and indicated that they conferenced with struggling writers more than with average writers. Most writing instruction is given to the whole class, with small-group instruction and individual support provided when needed. While these surveys provide insight into the nature of writing instruction, they are unable to capture how variations in instructional methods and time devoted to instruction translate to student outcomes.
Through a partnership with the Christina and Red Clay school districts, UD investigators will attempt to determine what kinds of instruction and what student skills are associated with writing achievement in first grade.  Investigators will develop an observational protocol to be used in 50 first grade classrooms (25 in year two and 25 in year three), to observe and monitor the results of various teaching methods.  Analyses will be centered on 6-9 students per classroom, segmented by low, medium and high performers.
"We hope to be able to provide a detailed picture of what effective writing instruction looks like in first grade and which approaches are more effective for students with a specific set of strengths or weaknesses," explains Coker, an associate professor in the School of Education.  "Our long-term goals are to use this information to design a writing curriculum that allows teachers to differentiate instruction based on students' needs."
Students will be assessed in the beginning of the school year to measure their level of mastery of specific reading and writing skills.  Instruction will be observed and results tracked again at the end of the year to determine effectiveness of teaching methods. The Delaware Education Research and Development Center will help train the observers, responsible for the day-long classroom monitoring.
The four-year, $1.4 million grant is funded by the Institute of Education Sciences.
Article by Alison Burris
Photo by Ambre Alexander