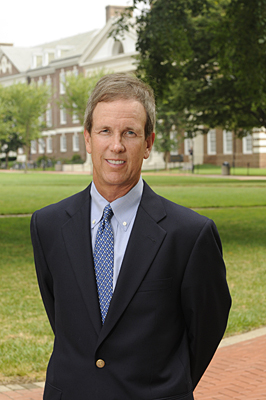 UD receives $2.5 million from alumnus, trustee
Gift to support students, faculty in Alfred Lerner College of Business and Economics
9:25 a.m., July 29, 2011--The University of Delaware has received a generous commitment of $2.5 million from Kenneth C. and Elizabeth K. Whitney to provide additional support for the Whitney Family Scholarship and the Whitney Family Endowed Chair, both housed in the Alfred Lerner College of Business and Economics.
"We are so grateful for the Whitneys' investment and for their leadership," says UD President Patrick Harker.  "We are honored to have Ken as a member of our Board of Trustees; as such, he has a keen understanding of the importance of this gift and the opportunities it will provide for our students and faculty.  The dedication that he and Liz have shown by way of their generosity is truly commendable."
From graduates, faculty
As it neared time for the processional to open the University of Delaware Commencement ceremonies, graduating students and faculty members shared their feelings about what the event means to them.
Doctoral hooding
It was a day of triumph, cheers and collective relief as more than 160 students from 21 nations participated in the University of Delaware's Doctoral Hooding Convocation held Friday morning on The Green.
Established in 2005 and significantly augmented with this gift, the Whitney Family Scholarship is awarded to incoming freshmen.  Preference is given to accounting or finance majors who are residents of New Jersey or New York, who are involved in intercollegiate athletics and demonstrate financial need. Provided students continue to meet the criteria for selection, the scholarship can be renewed during a student's course of study.
In addition to the scholarship, this gift creates the Whitney Family Endowed Chair.  Housed in the Department of Accounting and Management Information Systems in the Lerner College, this endowed faculty position will be offered to a talented scholar in the field of accounting.
An alumnus, member of the Board of Trustees and longtime supporter of the University, Kenneth Whitney is committed to the University and to helping students gain a top-notch education.  "I was fortunate to attend UD," says Whitney, an accounting major and member of the Class of 1980.  "I was able to get a solid foundation and build a successful career upon that. It is important to us that today's students, and future generations of students, have those opportunities."
"I am proud to have Ken Whitney as a member of our Board," says Board Chair Gil Sparks.  "The level of commitment he and Liz demonstrate though their generosity is noteworthy.  They provide an example to our alumni and our friends, to help them realize the value of UD, and how important it is to our state and our region." 
In addition to the strong message of endorsement the Whitneys' support sends to the community, it has also received an enthusiastic response on campus.  Bruce Weber, incoming dean of the Lerner College, says he believes that this investment is crucial to the continued success of their programs.
"I cannot stress enough the importance of this faculty chair and this scholarship to the college and to the University," says Weber. "This is how we recruit the brightest minds in the field to teach and conduct research at Lerner; this is how we attract the top students to our programs. We have Ken and Liz Whitney to thank for that, and we are profoundly grateful."
Article by Julie Russ
Photo by Duane Perry