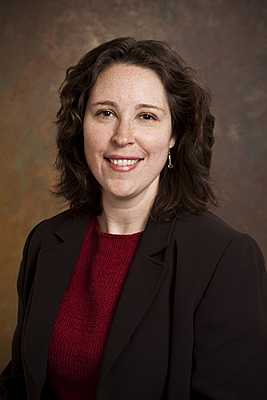 Prostitution and public health
Leon releases findings on health care needs of sex workers in Delaware
9:59 a.m., July 18, 2011--In the first study to examine the impact, prevalence and public health consequences of prostitution in New Castle County, Chrysanthi Leon, assistant professor in the Department of Sociology and Criminal Justice at the University of Delaware, has found gaping disparities in health care resources and social services for sex workers, who often cycle through the prison system without accessing treatment or making release plans.
Leon's research suggests nearly 400 people are currently involved in prostitution in New Castle County, and as a result, she estimates the Delaware population at risk for sexually transmitted infections to be in the thousands.
Chronic wounds
UD's Millicent Sullivan and Kristi Kiick have received a $1.4 million grant from the National Institutes of Health for research that could provide a new approach to the treatment of chronic wounds.
Prof. Heck's legacy
The American Chemical Society is highlighting the legacy of the late Nobel laureate Richard Heck, the Willis F. Harrington Professor Emeritus of Chemistry at the University of Delaware with a digital tribute on its publications website.
Through a survey of 217 incarcerated women and interviews and focus groups with 39 people who reported working in prostitution, she found:
African American women were 90 percent less likely to report having received mental health treatment during incarceration;
African American women in prison were 12 times more likely to report sexual abuse as a child;
Women who accessed substance abuse treatment were 17 times more likely to report sexual abuse; and
All people interviewed who were involved in sex work suffered from significant and untreated trauma.
"Prostitution is a public health concern but it is within the exclusive regulatory jurisdiction of criminal law," says Leon. "Interventions should therefore be available to people involved in or at risk for sex work at multiple points in the community and in the criminal justice system."
Leon worked with two sociology graduate students and more than 10 undergraduates in the College of Arts and Sciences to document the strengths and needs of people living on the edge.  
The UD team also partnered with two Wilmington nonprofits —Brandywine Counseling and Community Services (BCCS) and Stand Up for What's Right and Just (SURJ) — to collect data and develop evidence-based interventions to improve health outcomes and address the social factors and gender-based barriers to health for this high-risk population.
Their work is a component of a broad Coalition for a Healthier Community project led by BCCS and funded by a $100,000 grant from the U.S. Office of Women's Health. For over 25 years, Brandywine Counseling and Community Services has been a trusted provider of substance abuse and behavioral health treatment, HIV/AIDS prevention and education initiatives, mental health and advocacy services.
"Dr. Leon's research is critical to changing public perception of prostitution as solely a criminal activity, and in enabling behavioral health organizations like BCCS to help these women heal, make good choices for themselves and their families, and thrive as important members of our community," says BCCS CEO Lynn Fahey. 
Leon's team found three out of four women engaged in prostitution reported trading sex for housing, food or diapers.
"Instead of the commonly assumed desire for drugs or fast money, these women were often the primary caregivers for their families and felt they lacked other options," Leon explains.
As a result, she emphasizes the need for gender-informed policies and recommends a "one-stop center" for sex workers, which would provide intensive and empathetic case management, peer mentoring, childcare, legal aid and transportation, and would serve as a liaison with courts and other state agencies.
The Prostitution Diversion Program coalition, which sought the original funding under the leadership of BCCS and SURJ, recently submitted a competitive grant to fund interventions that would be based in Leon's findings.
"A trauma-informed approach with a single provider will have a dramatic and measurable impact on women's health," Leon says.  "The availability of intensive case management to people on the streets, in clinics, shelters or community-based service programs and wherever else they may be found will be crucial to creating interest and confidence in a program for this vulnerable group."
Article by Artika Rangan
Photo by Ambre Alexander