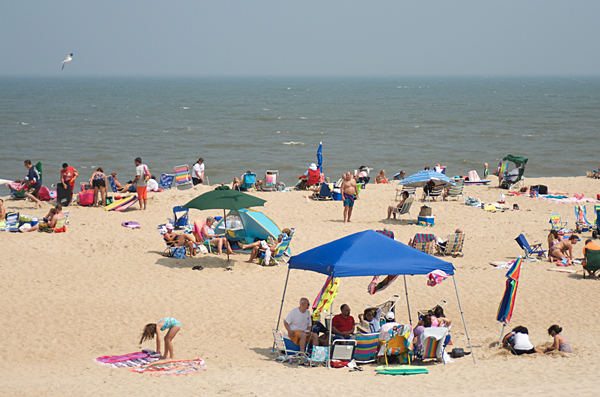 Beach buddies
UD monitoring program helps Delaware beaches achieve highest national ratings
1:26 p.m., July 7, 2011--Delaware's beach waters are among the cleanest in the nation according to the Natural Resources Defense Council (NRDC). That's thanks in part to a partnership between the University of Delaware and the state Department of Natural Resources and Environmental Control (DNREC).
The UD Citizen Monitoring Program, run by Delaware Sea Grant and featuring the efforts of trained citizen volunteers, helps DNREC monitor the state's waterbodies for signs of pollution. The program recently celebrated its 20th year serving the state.
From graduates, faculty
As it neared time for the processional to open the University of Delaware Commencement ceremonies, graduating students and faculty members shared their feelings about what the event means to them.
Doctoral hooding
It was a day of triumph, cheers and collective relief as more than 160 students from 21 nations participated in the University of Delaware's Doctoral Hooding Convocation held Friday morning on The Green.
Since the program's inception, nearly 300 volunteers have contributed 25,000 service hours. Program manager Joe Farrell estimates that donated time is worth $550,000. "Our citizen scientists save state resources while making key contributions to the Delaware's water quality monitoring program," he said.
The volunteers undergo significant training by Sea Grant staff, allowing them to contribute scientifically sound data to DNREC's overall monitoring program. "The citizen scientists help to fill monitoring gaps with reliable data," said Farrell, also noting that the trained volunteers are playing critical roles in statewide environmental stewardship and watershed protection efforts.
Such monitoring is a key factor in Delaware's beaches achieving "superstar" status from NRDC and tourists alike.
Meet some of the program's leaders and citizen volunteers here.
Article by Ron Ohrel
Photo by Lisa Tossey