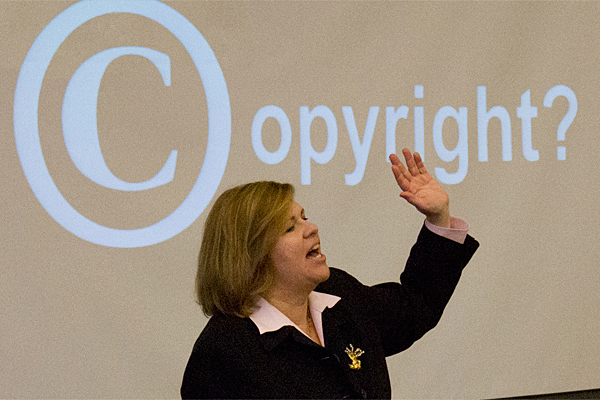 2012 Winter Faculty Institute
Preparing students for life in an information age
11:26 a.m., Jan. 23, 2012--More than 100 participants attended the University of Delaware's Winter Faculty Institute, which was held Jan. 10 and consisted of a keynote address, a workshop and a number of brief overview sessions about educational technologies.
"I thought this was the best so far and I've gone for many years," one participant wrote, adding, the "keynote was just right on timing -- long enough for some detail but not too long and too detailed."
June 6: UDid It! Picnic
All UD faculty and staff members are invited to attend the annual UDid It! employee appreciation picnic, set from 11 a.m.-1:30 p.m., Monday, June 6, on The Green.
2FA protects you
If you are using two-factor authentication (2FA), even if a hacker has your password, your information is probably safe.
Keynote
Renee Hobbs, founding director of the Harrington School of Communication and Media at the University of Rhode Island, inspired participants with her keynote on "Transforming Higher Education Through Digital and Media Literacy." 
New stakeholders for digital and media literacy are emerging across the U.S. and internationally, developing new educational initiatives that remix the fields of education, communication/media studies, computing, library/information science, writing and rhetoric and public health and challenging disciplinary boundaries in higher education. 
For a variety of reasons, college leaders and faculty may choose to ignore, resist, marginalize or fully support approaches to curriculum and instruction that help make connections across campus and community and strengthen students' creative, collaborative, critical thinking and communication skills in a digital age. 
"Basically, I want to discuss what it means to prepare students for life in an information age," Hobbs said. "I want to help you appreciate how the changing nature of knowledge necessarily shifts the way we think about our disciplines, our work as scholars, our work as teachers, and how, in some ways, the obligation to build the digital and media literacy competencies of young people falls on all of us."
Today's students are plugged in. According to Hobbs, they're using image language and sound to represent their lived experiences on the micro level. 
"By using social media they are constantly representing their lived experiences," she said. "That brings them into some natural places of deep complexity at a time when they are first beginning to figure out who they are and what they want to do.
"By all that sharing in their out-of-school worlds, it invites us to think about how to make the connection between the world they're experiencing in the 21st century and our goals for them as their mentors and their educators."
Hobbs' definition of literacy is "the sharing of meaning through symbolic form in whatever form those symbols take."
"Digital media literacy embraces interdisciplinary connections across campus and community," Hobbs said. 
Hobbs explained the five concepts at the heart of the digital media literacy learning process: 
1. Access: to comprehend and make sense of all kinds of texts; use technology tools well; gather information independently.
2. Analyze: to ask good questions; evaluate the quality and value of messages; explore context in meaningful ways.
3. Compose: to use multiple modes of expression; reach authentic audiences; manipulate content and form in relation to purpose.
4. Reflect: includes activating multi-personal thinking, predict consequences and use hypothetical reasoning and examine issues of power and responsibility.
5. Act: connect the classroom to the world, strengthen leadership and collaboration, develop integrity and accountability.
"These five learning processes help students to think about what it means to be professionals in their fields, to act with integrity and to use the tools and the power of communication wisely," she said.
Workshop
Hobbs' workshop about "Copyright Clarity for the College Community" delivered on its title and provided faculty with information to assert their fair use of media for educational purposes. Hobbs followed up with answers to faculty questions that were remaining in the Google Moderator queue.
Overview sessions
UD faculty and staff presented the afternoon program, which consisted of 20-minute overview sessions.
To learn more about Hobbs, visit the Media Education Lab website. 
To learn more about the event, visit the Winter Faculty Institute website.