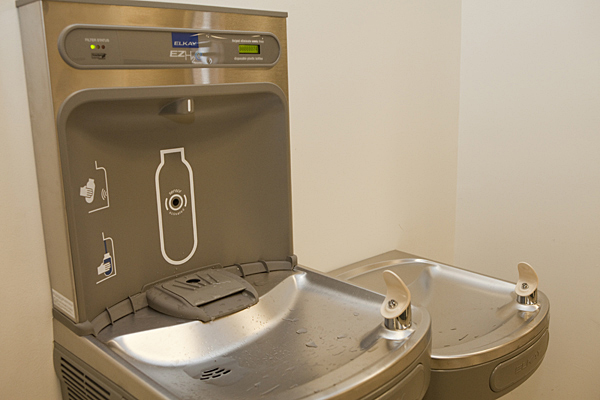 Water bottle refill station
UD's first water bottle refill station opens in Perkins Student Center
9:15 a.m., Jan. 12, 2012--Thirsty Blue Hens now have a new, more sustainable way to drink water in the University of Delaware's Perkins Student Center. The drinking fountains on the first floor of Perkins, across the hall from the Rodney Room, have been replaced with a water bottle refill station. 
This station, the first of its kind at UD, includes traditional drinking fountains as well as a bottle refill spout with a proximity sensor and auto shut-off capability. A digital display on the front of the machine keeps track of how much waste has been eliminated by the use of the refill function. In its first night of operation, users eliminated waste from 54 disposable plastic bottles.
From graduates, faculty
As it neared time for the processional to open the University of Delaware Commencement ceremonies, graduating students and faculty members shared their feelings about what the event means to them.
Doctoral hooding
It was a day of triumph, cheers and collective relief as more than 160 students from 21 nations participated in the University of Delaware's Doctoral Hooding Convocation held Friday morning on The Green.
The machine's installment is the result of a collaborative effort between UD's Sustainability Fund Working Group, the University Student Centers, Facilities Maintenance and Operations Plumbing Services, and Cope-Wardell-Ammon Associates, Inc. 
It is now easier than ever to obtain free, cold, filtered water for your reusable bottle, anytime the Perkins Student Center is open. With the waste elimination calculator, it is also easier than ever for users to see how their seemingly small steps can make quite a big impact on the environment.
For the University Student Centers (USC), the water bottle refill station is a significant step toward sustainable operation. Throughout the past year, the USC Event Services Office has been analyzing energy use and opportunities for improvement in both Trabant University Center and Perkins.
Replacing older amenities with more efficient technology will continue to be instrumental in reducing waste and assisting the University with goals set forth in the Climate Action Plan. 
Going forward, USC staff will be sharing data from the refill station with UD's Sustainability Task Force in the hopes of inspiring similar improvements across campus.
The Sustainability Task Force, which oversees the Sustainability Fund Working Group, also includes an Earth Week Working Group charged with programming and promoting Earth Week events on campus. 
Last year, event participants received a free UD Earth Week reusable steel water bottle. These popular bottles will be making a comeback at Earth Week 2012, to continue UD's green efforts and to encourage sustainable water practices within the community.
Article by Casey Impagliazzo
Photo by Ambre Alexander