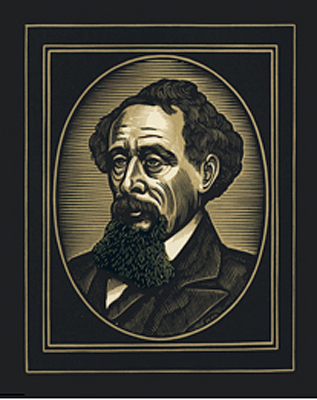 Jan. 24-June 8: Dickens exhibition
University of Delaware Library announces Charles Dickens exhibition
8:21 a.m., Jan. 17, 2012--The University of Delaware Library announces "Dickens at 200: 1812-2012," an exhibition of books, manuscripts, printed ephemera, artwork and realia, which will be on view in the Special Collections Exhibition Gallery on the second floor of the Morris Library from Tuesday, Jan. 24, through Friday, June 8.
Victorian novelist Charles Dickens (1812-1870) achieved literary "superstardom" in his own lifetime and remains widely popular 200 years after his birth. Although he never publicly discussed it, he never forgot the financial instability of his childhood, which temporarily led to debtor's prison for his father and a factory job for the 12-year-old Charles. 
June 5: Blue Hen 5K
University of Delaware graduates planning to attend Alumni Weekend are encouraged to register for the annual Blue Hen 5K walk and run, which will be held Sunday morning, June 5.
June 6-9: Food and culture series
The 20th annual June Lecture Series at the Osher Lifelong Learning Institute at UD in Wilmington will be held June 6-9. Titled 'June a la Carte,' this year's program focuses on great political documents, feminism, world politics and a Newark cuisine sampler.
Beginning as a young man, Dickens walked for miles in the city, developing an intimate familiarity with not only the kinds of people who lived there, but London itself. Dickens remained concerned for the poor and steadfastly advocated for changes in the social structure that would bring them access to sanitation, education and respectable work.
Individuals of all classes enjoyed Dickens' tales, with communal readings, theatrical productions and illustrations making them accessible to even the illiterate.
Dickens worked very closely with his illustrators. Although he collaborated with several artists, Hablot Knight Browne, known as Phiz, illustrated 10 of Dickens' novels over 23 years, including David Copperfield and Little Dorrit. 
The noted illustrator George Cruikshank worked with Dickens on Sketches by Boz as well as Oliver Twist. 
The University of Delaware Library possesses several original paintings, drawings, etchings and prints produced over the course of Cruikshank's long career.
The physical format of Dickens' novels also helped spur their popularity. The novels were produced as serials, with new installments coming each month and often ending on a cliffhanger. These paperbound segments, many of which are now extremely rare, were inexpensive to purchase, illustrated, and encouraged readers to excitedly wait for the next issue to be published. 
The University of Delaware Library owns several Dickens novels in their varied forms: serial installments, bound collections, single hardcover volumes, cheap paperback editions, and multi-novel sets.
Published in 1843, A Christmas Carol has been inexorably linked with the celebration of the holiday.  The story has been adapted into all major forms of media, including theatre, radio and film.
Dickens himself performed an immensely popular condensed version of the tale at public readings. Originally illustrated by John Leech, the book has been reimagined by numerous artists and printers. 
With a strong foundation in book arts and small press printing, the University of Delaware Library possesses many vastly different visualizations of the work, in addition to Dickens first printing.
Already a literary superstar, Dickens was greeted with unprecedented enthusiasm when he visited the United States in 1842. While impressed educational facilities, hospitals, prisons and other civic institutions of the United States, he was appalled by the practice of slavery and disdainful of the American press.  
Dickens was particularly irritated with the abundance of unlicensed copies of his works and his advocacy of international copyright regulations was very poorly received. By the end of his trip, even the adulation of his fans had become wearying, making all public activities difficult. Dickens wrote about his experiences in American Notes, prompting several rebuttals. 
Dickens returned to the United States in 1868 where he gave a series of highly successful readings. Despite ill health, he was much happier with his experiences on the second tour.
When Dickens died in 1870, he left his final novel, The Mystery of Edwin Drood, unfinished.
William A. Oliver, Jr., formerly from Kensington, Md., who donated his extensive Dickens collection to the University of Delaware Library, had a particular interest in this work and its unknown ending. Oliver collected numerous versions, continuations, and adaptations of the novel as well as related scholarship. In 1914, the Dickens Fellowship of London organized a theatrical mock trial for the novel's most likely villain, John Jasper. With authors George Bernard Shaw as the foreman of the jury and G.K. Chesterton as the judge, public interest was high and the Oliver collection features extensive coverage of the event.
The curator of the exhibition is Jaime Margalotti, senior assistant librarian in the Special Collections Department. 
The exhibition can be viewed during the regular hours of the Special Collections Department in the Morris Library, Monday through Friday, from 9 a.m. to 5 p.m., and Tuesday evenings until 8 p.m. An online version of the exhibition is available.