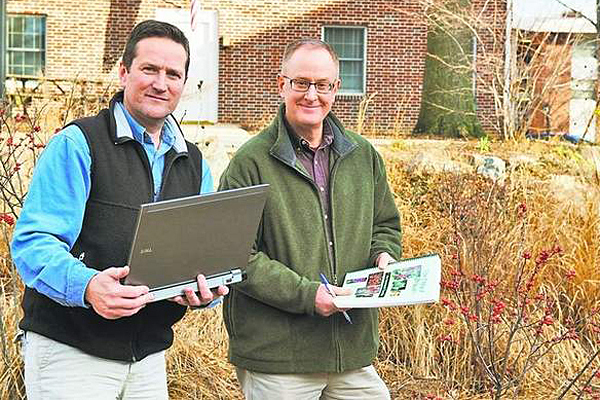 'Flora of Delaware'
Learn about Delaware's plants with new online database
10:05 a.m., Jan. 31, 2012--Any Delaware naturalist worth his or her hiking boots owns a well-thumbed copy of The Flora of Delaware. Written by Bill McAvoy, a botanist with the state's Division of Fish and Wildlife, this thick paperback gives the 411 on Delaware's 1,500-plus species of native plants.
But, good as it is, the book's not perfect, mostly because some things have changed since it was published 11 years ago. Due to habitat loss and other factors, plants that were listed as common have now become uncommon; in a few cases, plants listed as rare have made a comeback due to restoration work by McAvoy and others.
'Resilience Engineering'
The University of Delaware's Nii Attoh-Okine recently published a new book with Cambridge University Press, "Resilience Engineering: Models and Analysis."
Reviresco June run
UD ROTC cadets will run from New York City to Miami this month to raise awareness about veterans' affairs.
A second edition of The Flora of Delaware was recently released and it's got a number of advantages over the first edition. It's free; it's updated weekly by McAvoy; and it's easily accessible in the field via tablets or smart phones. 
More of an electronic database than a true eBook, this second edition was created by McAvoy and Andrew Homsey, GIS services manager for the Water Resources Agency, a program unit of the Institute for Public Administration in the School of Public Policy and Administration at the University of  Delaware. [Find the second edition at this website.]
An avid birder, Homsey says he didn't know much about plants before helping turn The Flora of Delaware into an online database. After four months of inputting the flowering period, seasonality, habitat and distribution area of 2,500 taxa, he picked up quite a bit. He says has a new appreciation for plants, in particular ferns and mosses.
"When I'm running or hiking or birding, I find myself on the look out for ferns, which are an ancient and fascinating group of plants," says Homsey.  
McAvoy hopes the new database gets more people interested in Delaware's plants, especially its rare plants. In his work with the state Natural Heritage and Endangered Species program, McAvoy focuses most of his attention on these plants that are in danger of extinction.
"Thirty-eight percent of Delaware's plants are classified as rare -- one of the highest percentages in the nation,' says McAvoy. "Yet there are no state laws to protect plants."
The neighboring states of Pennsylvania, Maryland and New Jersey all have regulations to protect native flora. Nationally, plants are part of the state endangered species act in 15 states; in 17 other states, endangered plants have their own protective act separate from animals.
Habitat destruction is a major reason for Delaware's rare plant problem. Seventy to 80 percent of the forests that existed in colonial times are now gone, due to urbanization or agriculture. Other factors that threaten Delaware's native flora include the proliferation of invasive species; pollution; sea level rise and salt water intrusion into fresh water areas; harvesting of plants for medicinal use, and grazing by deer. 
In the Piedmont region of northern New Castle County there are more non-native plants (54 percent) than native species (46 percent). Although not every non-native is a bad guy, many are. Seventy-six species are known to be invasive and another 117 are on a watch list in Delaware.
Among the worst offenders, says McAvoy, is lesser celandine, which has taken over large swaths of the state's floodplain forests, displacing native plants. This spring ephemeral, also known as fig buttercup, can be found in many suburban yards. Unknowing homeowners may be attracted to the bright-yellow blooms of lesser celandine but once it starts choking out other plants they realize the danger it presents.
McAvoy has been studying Delaware's plant populations for 21 years. For the past several years he also has been doing rare plant restoration work at sites in Redden State Forest, Nanticoke River State Wildlife Area, and near the town of Ellendale.  "The Ellendale area is a 'hot spot' for rare plants; it's where a number of southern species reach their northern limits," says McAvoy.
Over the years, a lot of land around Ellendale has been drained for agricultural purposes. "You've got rare plants hanging on, growing in ditches," notes McAvoy.
He and his restoration team collect seeds and live plants and move them into seasonal ponds that are still intact. Last summer, they worked with a crew from Redden State Forest to see that red maples were removed from a wetland. The maples had grown so profusely that rare plants, deprived of sunlight, were quickly disappearing. 
How you can help
You can help protect Delaware's native flora by removing non-native invasive species from your yard. Burning bush (Euonymus alatus) and other known invasives are still sold at some garden centers; educate yourself before you buy.
Volunteers are needed to help with rare plant restoration efforts. To sign up for work days, later this spring, contact Lynne Staub, volunteer coordinator for the Division of Fish and Wildlife, at 735-3600 or lynne.staub@state.de.us.
Article by Margo McDonough
Photo by Danielle Quigley