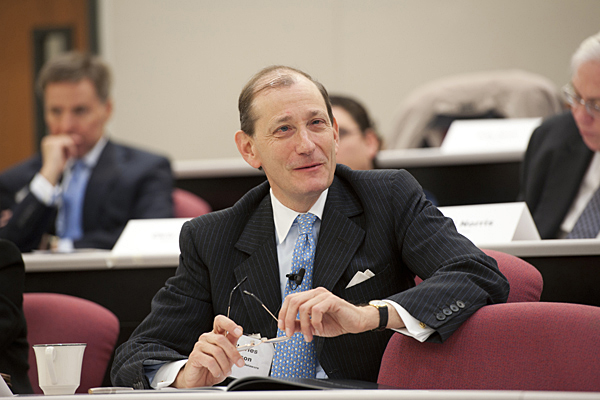 Business ethics honors
UD corporate governance expert Elson named in Ethisphere's top 100
1:51 p.m., Jan. 27, 2012--It isn't every day someone is honored in a "top 100" list but the University of Delaware's Charles Elson, Edgar S. Woolard, Jr., Chair in Corporate Governance, has done it twice. His hard work and dedication in the realm of corporate governance has earned him recognition in the Ethisphere Institute's 2011 100 Most Influential People in Business Ethics, a collection of individuals who had a significant impact in business ethics over the last year.
The honor, which placed him No. 44 on the list, comes just a little over a year after Elson earned a spot on the Directorship 100, a Who's Who of the most influential corporate governance professionals in the nation.
National Medal of Science
President Barack Obama recently presented the National Medal of Science to University of Delaware alumnus Rakesh Jain.
Warren Award
Rosalind Johnson, assistant dean for student success in the NUCLEUS Program in UD's College of Arts and Sciences, was presented the John Warren Excellence in Leadership and Service Award during a May 26 ceremony.
According to Ethisphere, the credit was a long time coming: "Elson is a leading governance guru who would have been on this list for several years, had he not agreed to be one of the advisory board members. 2011 marks his long overdue entrance to this recognition."
The list, topped by Indian anti-corruption activist Anne Hazare and U.S. District Judge Jed Rakoff, represents individuals in 10 distinct categories: Government and Regulatory; Business Leadership; Non-Government Organization; Design and Sustainability; Media and Whistleblowers; Thought Leadership; Corporate Culture; Investment and Research; Academics; and Philanthropy. 
As director of the John L. Weinberg Center for Corporate Governance (WCCG) at UD, Elson was recognized in the Academic category. 
On being included in the Ethisphere list, Elson said he was "delighted, humbled and honored."
Bruce Weber, dean of the Alfred Lerner College of Business and Economics, noted the role Elson plays in fulfilling an important educational mission.
"Professor Elson not only teaches critical corporate governance topics in the classroom, he hosts important conferences and panel events with top business leaders, lawyers, judges and public representatives that focus on the latest issues in corporate governance," said Weber.
Eric Ruth of the Wilmington News Journal also called him the "go-to guy when national journalists want some thoughtful analysis of corporate governance issues."
Weber agreed, noting Elson sets a high standard for his objective, impartial research on governance, compliance and business ethics issues.
"Professor Elson communicates his findings to influential audiences and has a tremendous impact on practice and future policy decisions," said Weber. "As the Lerner College research profile continues to grow, stimulating debate and contributing insights broadly will be a hallmark of our work as faculty of a premier business school."
Elson, who is also of counsel to the law firm of Holland and Knight, formerly served as a professor of law at Stetson University College of Law in St. Petersburg, Fla., from 1990 until 2001. His fields of expertise include corporations, securities regulation and corporate governance. He holds a bachelor's degree from Harvard College and a juris doctorate from the University of Virginia Law School.
Article by Kathryn Meier
Photo by Evan Krape