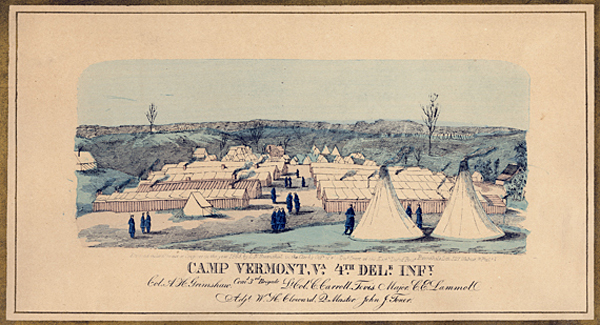 Through Dec. 20: 'A State Divided'
University of Delaware Library exhibition highlights Delaware in the Civil War
9:53 a.m., Jan. 19, 2012--The University of Delaware Library has announced a new exhibition entitled "A State Divided: Delaware During the Civil War," which will be on view in the Lincoln Exhibit Case adjacent to the Special Collections Exhibition Gallery through Thursday, Dec. 20.
The year 2011 marked the 150th anniversary of the start of the American Civil War (1861-65). The sesquicentennial celebration (2011-15) is set to continue over the next three years in cultural institutions around the country to commemorate the nation's greatest conflict fought on its own soil.
June 5: Blue Hen 5K
University of Delaware graduates planning to attend Alumni Weekend are encouraged to register for the annual Blue Hen 5K walk and run, which will be held Sunday morning, June 5.
June 6-9: Food and culture series
The 20th annual June Lecture Series at the Osher Lifelong Learning Institute at UD in Wilmington will be held June 6-9. Titled 'June a la Carte,' this year's program focuses on great political documents, feminism, world politics and a Newark cuisine sampler.
As one of five border states -- states that remained in the Union but which bordered states that joined the Confederacy -- Delaware represented a microcosm of the nation as a whole on matters of states' rights, slavery, and support for the Union cause. Politics were generally defined geographically: urban centers like Wilmington in northern New Castle County favored Republicanism, while southern agrarian Kent and Sussex counties were Democratic strongholds.
"A State Divided: Delaware During the Civil War" offers items from Special Collections including books, prints, postcards, speeches, sermons, soldiers' letters, memoirs, and other documents showcasing the state at a social, economic, and political crossroads.
The exhibition can be viewed during the regular hours of the Morris Library. The curator of the exhibition is Maureen Cech, assistant librarian in the Special Collections Department in the University of Delaware Library.