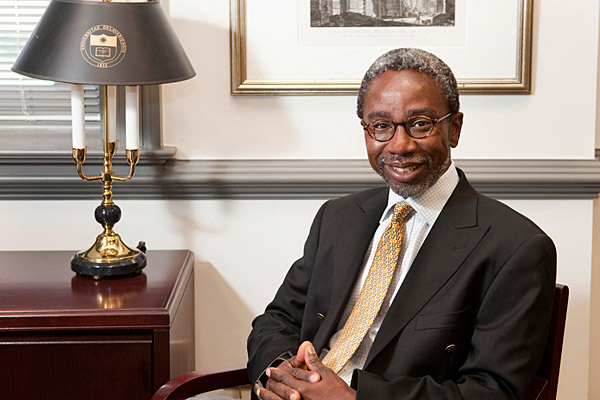 Engineering elite
National Academy of Engineering elects UD's Babatunde Ogunnaike
8:22 a.m., Feb. 10, 2012--A University of Delaware engineering professor noted for his contributions to advances in process systems, process engineering practice and systems engineering education has been elected to the prestigious National Academy of Engineering (NAE).
Babatunde A. Ogunnaike, William L. Friend Chair of Chemical Engineering and interim dean of the College of Engineering, is among the NAE's 66 new members and 10 foreign associates announced in a press release Feb 9. 
National Medal of Science
President Barack Obama recently presented the National Medal of Science to University of Delaware alumnus Rakesh Jain.
Warren Award
Rosalind Johnson, assistant dean for student success in the NUCLEUS Program in UD's College of Arts and Sciences, was presented the John Warren Excellence in Leadership and Service Award during a May 26 ceremony.
Academy membership is among the highest professional distinctions accorded to an engineer, placing Ogunnaike among an elite group of individuals who have made outstanding contributions to engineering research, practice or education. It recognizes scientists who have emerged as pioneers in new and developing fields of technology, made major advancements in traditional fields of engineering or developed innovative approaches to engineering education.
"Tunde's career has had great impact on industrial practice, as well as on education and research. I am pleased to see him recognized for his scientific contributions and his commitment to educating tomorrow's leaders," remarked Mark A. Barteau, senior vice provost for research and strategic initiatives at UD and fellow NAE member.
In particular Barteau noted Ogunnaike's model-based process control advances, developed during his 13-year research career at DuPont, which today affect a number of commercial processes. Equally, his textbooks have been used to educate and train thousands of engineers in systems control and instrumentation at more than 29 universities. 
Ogunnaike is known among his colleagues and students as an outstanding scholar and mentor. He spent many years teaching at UD while with DuPont, before joining the faculty. T.W. Fraser Russell, Allan P. Colburn Professor Emeritus of Chemical Engineering and NAE member, said Ogunnaike is a "valued UD faculty member and leader" known for his capability, both in the classroom and with individual students.
"It is rare to find an individual that has that unique combination of effective industrial experience and academic expertise," Russell explained.
"I am honored and humbled," Ogunnaike said of the appointment.
Ogunnaike joins five other College of Engineering faculty and emeritus faculty as members of the NAE.  UD's David L. Mills, emeritus professor of electrical and computer engineering (2008); Mark Barteau, senior vice provost for research and strategic initiatives and Robert L. Pigford Chair in Chemical Engineering (2006); Dominic Di Toro, Edward C. Davis Professor of Civil and Environmental Engineering (2005); Stanley Sandler, H.B. du Pont Chair of Chemical Engineering (1996); and T.W. Fraser Russell, Allan P. Colburn Professor Emeritus of Chemical Engineering (1990).
Ogunnaike joined the UD faculty in 2002 as a professor with dual appointments in the Department of Chemical Engineering (now the Department of Chemical and Biomolecular Engineering) and the Delaware Biotechnology Institute's Center for Systems Biology. He was appointed William L. Friend Professor of Chemical Engineering in 2004 until his promotion to William L. Friend Chair in 2008. He was named deputy dean for the College of Engineering in 2010 and interim dean of engineering in 2011.
The author or editor of four books and more than 75 papers and book chapters, Ogunnaike has served as associate editor of the Institute of Electrical and Electronics Engineers' IEEE Transactions on Control Systems Technology, and he is associate editor of the American Chemical Society's Industrial & Engineering Chemistry.
Ogunnaike earned a bachelor's degree in chemical engineering from the University of Lagos in Nigeria in 1976 and a master's degree in statistics and a doctorate in chemical engineering from the University of Wisconsin Madison in 1981.
He has won a number of awards, including the Donald P. Eckman Education Award from ISA, an international organization involved in instrumentation, systems and automation, in 2007. In 2008, he received the American Automatic Control Council's Control Engineering Practice Award. He also has received the College of Engineering's Excellence in Teaching Award. 
With the 2012 Class of Members, NAE's total U.S. membership expands to 2,254 and the number of foreign associates to 206.
The Department of Chemical and Biomolecular Engineering plans to honor Ogunnaike with a reception Tuesday, Feb. 14.
Article by Karen B. Roberts
Photo by Ambre Alexander