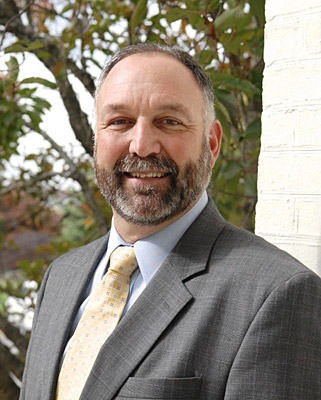 Leading Iowa State
UD alum Steven Leath named president of Iowa State University
12:58 p.m., Feb. 14, 2012--University of Delaware alumnus Steven Leath has been named the 15th president of Iowa State University. Leath started his new position on Jan. 16 and he said of the appointment, "I'm very excited, a little bit humbled and very pleased to be here." 
Leath said that he hopes to continue to make Iowa State a great place for undergraduate and graduate education. 
'Resilience Engineering'
The University of Delaware's Nii Attoh-Okine recently published a new book with Cambridge University Press, "Resilience Engineering: Models and Analysis."
Reviresco June run
UD ROTC cadets will run from New York City to Miami this month to raise awareness about veterans' affairs.
"We're going to continue to provide a real hands on, high quality undergraduate educational experience," he said, "and we're going to make our research very responsive to the needs of the state. We want to be the best place for public/private partnerships so that industry is drawn to Iowa State and cooperating with Iowa State." 
Before becoming president of Iowa State, the nation's first land grant university, Leath served as vice president for research and sponsored programs for the University of North Carolina system. He also served as the associate dean of the College of Agriculture and Life Sciences and as director of the North Carolina Agricultural Research Service at North Carolina State University. 
Leath has received three plant science degrees, earning his bachelor's from Pennsylvania State University, his master's from UD and his doctorate in plant pathology from the University of Illinois. 
Leath received his master's degree from UD in 1981, studying in the Department of Plant and Soil Sciences in the College of Agriculture and Natural Resources, and he remembers fondly his time in Newark, specifically the Saturday morning lab sessions with his fellow Blue Hen researchers.  
"The Saturday morning lab sessions were some of my favorite memories because it seemed more informal," he said. "We all got along and there was a lot of camaraderie, a lot of exchange of ideas, ranging from scientific discussions to sports discussions." 
Another aspect that sticks with Leath is the time he spent conducting research in southern Delaware. "I loved going to the research farm in Georgetown. That was really great. The drive was nice and it was just a great place to do your field work," Leath said, explaining that he conducted his master's thesis research on root disease in soybeans. 
He credits his time and his professors at UD -- specifically Robert Carroll and James Hawk, professor of plant and soil sciences and professor at the Agricultural Experiment Station -- for preparing him for the future, saying, "The University of Delaware did a real good job of transforming college graduates into independent researchers." 
Of course, he also remembers UD fondly because it is where he met his wife, Janet, who was also a student. "I met my wife of 30 years there and as it turns out, she's had a huge positive effect on my career," Leath said, adding, "It's probably hard to quantify that, but it's a big deal." 
They both returned to the campus in 2010 when Leath received the College of Agriculture and Natural Resources Distinguished Alumni Award, and he said that the University still holds a special place in their lives. "We just still have fond memories and great affection for the University of Delaware. We always remember it as a beautiful campus, but it's more beautiful than ever."
Article by Adam Thomas
Photo by Danielle Quigley