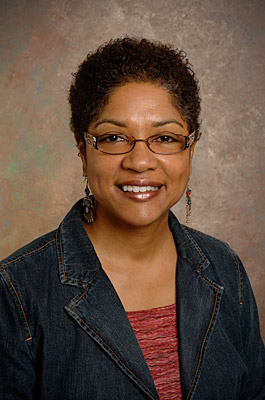 Art and activism
University art professor writes about experience with protest design
9:07 a.m., Feb. 27, 2012--Colette Gaiter, a University of Delaware associate professor of art, has published an article titled "CultureStrike: Design Activism to Impact Immigration Reform" in the American Institute of Graphic Arts online journal, a publication for the professional association for design.  The article focuses on the role of graphic design in social movements, particularly in the immigration protests in Arizona that advocated passage of the DREAM Act.
Last September, Gaiter became involved in the CultureStrike Coalition National Campaign, a group set up to bring together creative individuals to develop graphics that would impact the ways citizens view immigration and other social issues.  She was invited to the Arizona-based delegation by Favianna Rodriguez, a Bay Area activist organizing the campaign.  
'Resilience Engineering'
The University of Delaware's Nii Attoh-Okine recently published a new book with Cambridge University Press, "Resilience Engineering: Models and Analysis."
Reviresco June run
UD ROTC cadets will run from New York City to Miami this month to raise awareness about veterans' affairs.
Gaiter met Rodriguez when she spoke at the University of Delaware last year for the lecture series "The Art of Liberation," which Gaiter developed through a grant from the Interdisciplinary Humanities Research Center. 
CultureStrike brought together about 50 artists to protest SB 1070, a controversial immigration bill in Arizona.  One artist, Ernesto Yerena, created the "Alto Arizona" campaign, in which artists were able to publish and sell their work to fund the protest against the bill.  
Also among the group was Emory Douglas, an artist and activist Gaiter credits with creating the "visual language of black life." She said he has had a strong influence on the work of many of the younger artists.  
Gaiter also references in the article the proliferation of activism and other protests, from those in the Middle East to the Occupy Wall Street protests in the United States.  She notes that the spread and magnitude of protests in the past year was so great that Time magazine dubbed "The Protester" its person of the year.  
Many of the participants in CultureStrike later became involved in Occupy Wall Street, a transition Gaiter said is common since protest networks tend to overlap.  She said graphics have had huge resonance in this movement, particularly in conveying the group's "99 percent" message.  
"When you see that number printed, it becomes a whole different animal," Gaiter said.
Though media coverage of the Occupy Wall Street protests has subsided, Gaiter said she thinks the movement will regain momentum as the election nears.  She also said other protests could arise, including some in response to the birth control controversy that has been circulating through Washington recently.  
Gaiter said her interest in the role of art in social protest goes as far back as her high school years, and she has always been intrigued by the ability of images to persuade individuals.  Despite the increase in visual technology, Gaiter said she thinks there is still strong resonance from simpler graphics.  
"There is so much media and instant video, but there is still so much power in a single image," Gaiter said.  
Gaiter also said she believes some of the most resonant images are hand-made signs.  She said they are "so inspiring" because people "made them from whatever they had."
However, Gaiter said technology has played a beneficial role in the expansion of activist movements through its ability to connect to citizens.  People are able to upload artwork at higher resolutions, and they can share the symbols and graphics from the protests with more speed and over greater distances.  
Gaiter said these images are then able to become a part of culture and establish themselves in popular iconography, ultimately helping spread the message of the activist group and possibly clarify their goals and mission.  
"Images make certain concepts no longer abstract; they become real," Gaiter said.
Article by Lauren Pitruzzello