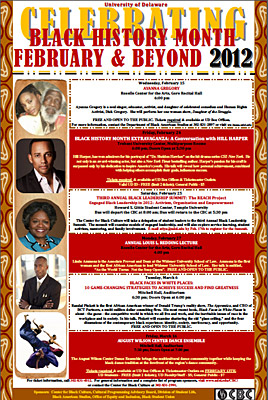 Black History Month
UD Black History Month: February and Beyond activities detailed
1:32 p.m., Feb. 15, 2012--Black History Month: February and Beyond is being marked at the University of Delaware with a variety of activities.
Activities include a sold out Feb. 15 performance by Ayanna Gregory, a presentation by actor Hill Harper on Friday, Feb. 24, the annual Louis L. Redding Lecture on Monday, Feb. 27, a talk by The Apprentice winner Randal Pinkett on Tuesday, March 6, and a performance by the August Wilson Center Dance Ensemble on Friday, March 16.
From graduates, faculty
As it neared time for the processional to open the University of Delaware Commencement ceremonies, graduating students and faculty members shared their feelings about what the event means to them.
Doctoral hooding
It was a day of triumph, cheers and collective relief as more than 160 students from 21 nations participated in the University of Delaware's Doctoral Hooding Convocation held Friday morning on The Green.
For a poster of Black History Month: February and Beyond activities, click here.
For additional information, see the website.