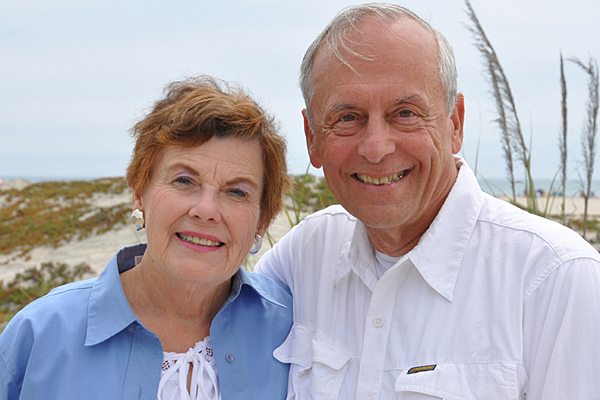 Attracting talent
Alumni gifts fund fellowships, young faculty appointments in engineering
10:14 a.m., Dec. 1, 2011--The University of Delaware's College of Engineering is celebrating two $1 million contributions that will fund graduate fellowships and a newly created Career Development Chair within chemical engineering.
A $1 million gift from Thomas L. and Kipp T. Gutshall will endow the University's first "career development" faculty chair. Career development is a term synonymous with young faculty chair, or professorship, and is intended for a teacher/scholar at the assistant or associate professor level. 
'Resilience Engineering'
The University of Delaware's Nii Attoh-Okine recently published a new book with Cambridge University Press, "Resilience Engineering: Models and Analysis."
Reviresco June run
UD ROTC cadets will run from New York City to Miami this month to raise awareness about veterans' affairs.
Officially known as the Thomas and Kipp Gutshall Chair, the endowed position is meant to reward exceptional young faculty talent. Unlike senior endowed chairs, the designation may rotate among young faculty periodically, depending upon need.
"Kipp and I are honored to play a role in continuing to strengthen the faculty of the Chemical Engineering Department," remarked Gutshall, who received his bachelor's degree in chemical engineering at UD in 1960 and is co-founder and chairman of Cepheid, a leading molecular diagnostics company.
A longstanding member of the chemical engineering advisory council, he and his wife, Kipp, have been very active with the University and the Department of Chemical Engineering over many years. In 2010, he served as co-chair of his 50th class reunion giving program.
Similarly, two new College of Engineering graduate fellowships will be made available to incoming doctoral students with strong academic progress beginning in 2012, thanks to a generous $1 million gift from Robert W. Gore.
Gore is a 1959 chemical engineering graduate of UD, who served as president of W.L. Gore and Associates, Inc. He was a member of the UD Board of Trustees and is now trustee emeritus.
The annual fellowships will be awarded at the discretion of the dean and are intended to help new first-year graduate students support educational and living expenses.
"Rewarding and retaining our talented young faculty, and attracting high quality graduate students, are top priorities for us in the College of Engineering. These two gifts will go a long way in helping us to achieve these objectives," said Babatunde A. Ogunnaike, interim dean of engineering.
The college plans to make a formal announcement about the inaugural Thomas and Kipp Gutshall Chair next spring, after a faculty member is selected. The doctoral fellowships will be announced as awardees are chosen.
Article by Karen B. Roberts