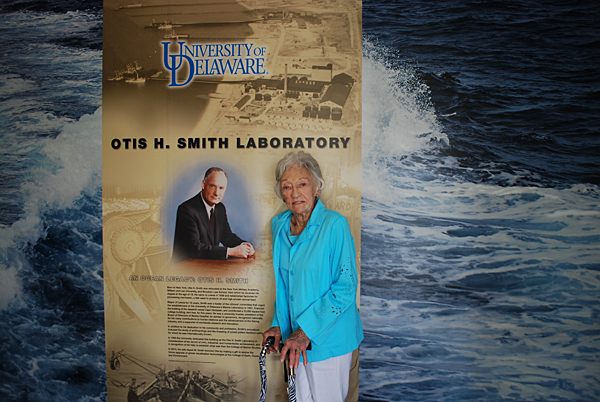 Helping others to visualize our world
Smith Global Visualization Room dedicated at UD campus in Lewes
1:41 p.m., Aug. 16, 2011--The University of Delaware College of Earth, Ocean, and Environment (CEOE) recently paid tribute to one of its earliest supporters in a ceremony to dedicate the Smith Global Visualization Room.
The ceremony honored the memory of Otis H. Smith, a longtime supporter of marine research and education at the University. Smith moved to Lewes from New York in 1938 and established factories for processing menhaden, a fish used to produce oil and high-protein animal feed.
'Resilience Engineering'
The University of Delaware's Nii Attoh-Okine recently published a new book with Cambridge University Press, "Resilience Engineering: Models and Analysis."
Reviresco June run
UD ROTC cadets will run from New York City to Miami this month to raise awareness about veterans' affairs.
Mayor of Lewes for 18 years, Smith was a leader of the citizens' committee that urged the establishment of UD's Marine Laboratory in 1951, financed the building of the research vessel Cape Henlopen, and contributed a 10,000 square-foot college building, rent free, for five years. 
He was a University trustee, president of the board of directors of Beebe Hospital, an adviser to governors, recognized nationally for his many contributions to human relations and the advancement of the fishing industry, and a supporter of worldwide research and education. 
In 1980 the University dedicated the building that now holds the Smith Global Visualization Room as the Otis H. Smith Laboratory in consideration of his record of civic, industrial and humanitarian achievement, and in recognition of his help to establish what was then the College of Marine Studies.
In 2010, his wife Hazell M. Smith honored Mr. Smith by making a gift to endow the future upgrade of global visualization technologies at CEOE. 
The Smith Global Visualization Room features several tools that provide scientists with real-time data streams on everything from ocean temperature and currents to the movement of ships — all at once. 
Data are collected from a wide variety of sources — including satellites, autonomous underwater vehicles, and floating buoys. 
When viewed on the room's large flat panel TVs and navigated with a 3-D mouse, a Google Earth globe and any data illustrated on it are seen with such high resolution and great detail that viewing the image feels more like a high-flying helicopter ride.
"We were so happy when the University of Delaware came to Lewes and were interested in what they were doing," said Hazell Smith, who added that she remains interested in CEOE research today. "I can't help but wonder how this technology would've helped our (menhaden) business back in the day."
The ceremony featured remarks from CEOE Dean Nancy Targett, Lewes Mayor Jim Ford, State Sen. Gary Simpson and Matthew Oliver, CEOE assistant professor of oceanography and the visualization room's creator. 
Photo by Lisa Tossey