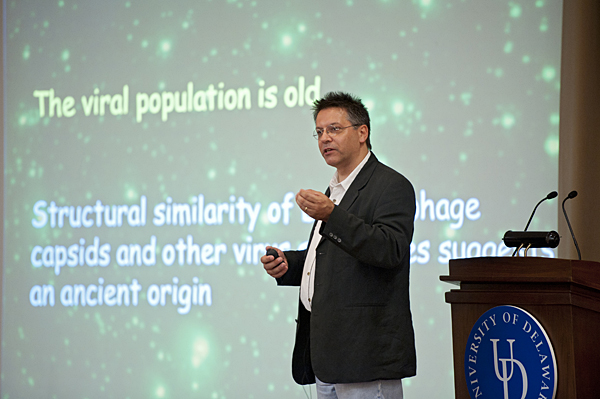 Summer achievements
Symposium showcases summer undergrad research and service efforts
5:02 p.m., Aug. 11, 2011--Undergraduate researchers were busy at the University of Delaware this summer, and the results of their research were on display during the second annual Undergraduate Research and Service Celebratory Symposium, held Wednesday, Aug. 10, in Clayton Hall.
Representing every UD college and discipline, some 330 undergraduate research and service scholars and visiting scholars participated. The event featured 243 poster presentations and 87 oral presentations.
Chronic wounds
UD's Millicent Sullivan and Kristi Kiick have received a $1.4 million grant from the National Institutes of Health for research that could provide a new approach to the treatment of chronic wounds.
Prof. Heck's legacy
The American Chemical Society is highlighting the legacy of the late Nobel laureate Richard Heck, the Willis F. Harrington Professor Emeritus of Chemistry at the University of Delaware with a digital tribute on its publications website.
The keynote lecture, "Exploration and Exploitation of Mycobacteriophages," was given by Graham Hatfull, Eberly Family Professor of Biotechnology at the University of Pittsburgh and Howard Hughes Medical Institute Professor. 
Mycobacteria cause diseases such as tuberculosis and leprosy. Mycobacteriophages are viruses that infect mycobacteria.  
"We explore these phages by isolating new phages and analyzing their genomes in order to learn about what these phages are, their genetic diversity, how may types there are, and to see if we can learn about how they came to be," Hatfull said. "We have barely scratched the surface. This is an incredibly rich field of information." 
Hatfull said that cellular biology research, including that concerned with mycobacteriophages, has important implications for addressing serious health emergencies, including the outbreak of E. coli bacteria in Europe and the HIV and tuberculosis crises in parts of South Africa. 
"These strains produce toxins that can kill people, as evidenced by the recent e-coli deaths in Germany (May 2011)," Hatfull said. "In Tugela Ferry, South Africa, there has been an untreatable extensively drug resistant strain of tuberculosis, with the median time to death now at 16 days. The problem is that diagnosis is a very slow process that can take up to two weeks."
Student research and service
Lynnette Overby, director of UD's Office of Undergraduate Research and Experiential Learning, said that students seemed to enjoy sharing their research with their peers.
"The 2011 Celebratory Symposium was a day filled with excitement as 330 students presented the culmination of a summer dedicated to research and service," Overby said. ""The goals of this event were to provide students with an opportunity to disseminate their knowledge in a professional venue and to promote interdisciplinary discussion."
The presentations represent 10 weeks of intensive experiences by undergraduate students working in laboratories, schools, studios and hospitals locally and at several international locations.
Samantha Toscano, a double major in English and mass communication, with a minor in journalism, spent the summer as an arts and humanities scholar. Scholars are sophomores and juniors who serve in-depth apprenticeships with faculty researchers in various academic departments.
"It has been nice to sum up all my summer research in a formal presentation," Toscano said. "I get to see how the students across all disciplines and concentrations in my group were able to bring all of their summer research together in their presentations."
The winners of the first-ever Interdisciplinary Undergraduate Research in Sustainability Prize included:
First place:  Matthew Fischel, "Kinetics of Arsenite Exodation by Manganese Oxide Minerals:  Importance for Water Quality and Environmental Sustainability." Faculty sponsor:  Donald Sparks;
Second place (tie): Gregory Darone, "Synthesis and Investigation of Solid Solutions as Potential Thermoelectric Materials." Faculty sponsor: Svilen Bobev; and Anthony McGuire, "Replacing Chlorine with Nanoscale Zero-Valent Iron-Coated Media for Point-of-Use Drinking Water Treatment." Faculty sponsor:  Pei Chiu; and 
Third place:  Christine Howard, "Environmentally-Friendly Leather Tanning." Faculty sponsor:  Huantian Cao.
The award was established by the UD Undergraduate Research Program, the Library and Gale, a leading organization in e-research and educational publishing, to encourage undergraduate research and projects in the area of sustainability. The prize is in conjunction with the implementation of Global Reference on the Environment, Energy and Natural Resources. 
Raffle giveaways included
5 tickets for free ice cream (one cone per ticket) at the UDairy Creamery, courtesy of the College of Agriculture and Natural Resources);
$10 gift card for Rainbow Music & Books, courtesy of Rainbow;
$25 gift card to Kildare's, courtesy of Kildare's;
One sheep's wool blanket, courtesy of the College of Agriculture and Natural Resources;
One bicycle, courtesy of the Office of Graduate and Professional Studies;
$300 from Barnes and Noble—Alliance of Summer Scholar Programs (for school books/supplies);
$500 from Barnes and Noble—Alliance of Summer Scholar Programs (for school books/supplies); and
An iPad2—Alliance of Summer Scholar Programs.
Gifts also included a $10 gift card for Starbuck's and two $5 gift cards for Cold Stone Creamery. 
The symposium is planned and implemented by the Alliance of Summer Scholars Programs, a group of directors and coordinators of more than a dozen summer experiential programs at UD. 
Article by Jerry Rhodes
Photo by Evan Krape