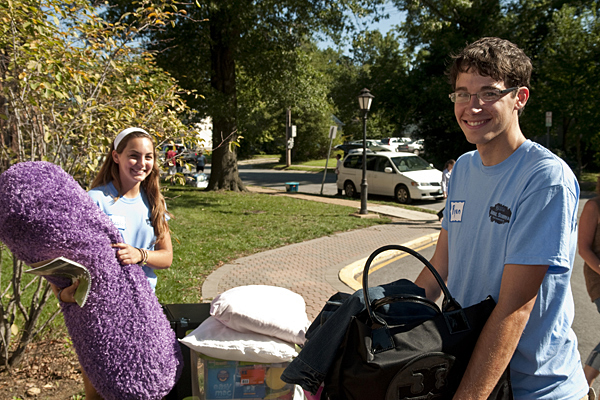 Aug. 28 5 p.m. update: Opening rescheduled
Move-in to begin Aug. 30, classes start Sept. 1
Editor's note: This article was updated at 9:55 a.m., Aug. 29, 2011.
5 p.m., Aug. 28, 2011--University of Delaware students will be able to move into campus residence halls beginning on Tuesday, Aug. 30, and fall semester classes will begin at 8 a.m., Thursday, Sept. 1, UD officials announced today, Aug. 28.
On Monday, Aug. 29, Facilities staff will be cleaning up after Hurricane Irene and ensuring that the campus is ready for the return of students.
From graduates, faculty
As it neared time for the processional to open the University of Delaware Commencement ceremonies, graduating students and faculty members shared their feelings about what the event means to them.
Doctoral hooding
It was a day of triumph, cheers and collective relief as more than 160 students from 21 nations participated in the University of Delaware's Doctoral Hooding Convocation held Friday morning on The Green.
To accommodate students, hours for move-in have been extended to 8 a.m.-10 p.m. on Tuesday, Aug. 30, and to 9 a.m.-6 p.m. on Wednesday, Aug. 31.
Fall semester classes will begin at 8 a.m., Thursday, Sept. 1. New Student Convocation and New Graduate Student Convocation, originally scheduled on Aug. 29, are canceled.
Arrival Survival Team
The Office of Residence Life is making every effort to recruit additional Arrival Survival Team (AST) volunteers to assist with the two-day residence hall move-in process and to welcome first-year students to campus. Because check-in will occur over an extended period of time, AST volunteers will be distributed accordingly. "Please anticipate that we will not have the same level of assistance as we would traditionally for opening.  We appreciate your understanding," said Dawn Thompson, dean of students and associate vice president for student life.
To learn how to volunteer for the Arrival Survival Team, click here. 
Unable to check in on Aug. 30-31?
For students who are absolutely unable to check in to the residence halls on Tuesday or Wednesday, the Office of Residence Life can offer check-in times by appointment on Thursday or Friday, Sept. 1-2. 
To schedule an appointment, the student should send an email to his or her complex coordinator and include the following information: Student's name, residence hall assignment and whether the appointment is needed on Thursday or Friday. (For a list of complex coordinators' contact information, click here.) Please include a cell phone number or other phone number where you can easily be contacted, if necessary. 
The complex coordinator will respond to the email to confirm a check-in appointment. Please note that classes begin at 8 a.m., Thursday, Sept. 1. It is the responsibility of each student to discuss absences with faculty members. 
For Associate in Arts students
Students in the Associate in Arts Program at the Wilmington, Dover and Georgetown campuses will follow the same time schedule for start of classes as the Newark campus: Thursday, Sept. 1.
For UD employees
The University will open on its regular schedule on Monday, Aug. 29, and employees should report as normal. Employees are not expected to take unnecessary risks, and persons who cannot report to work as scheduled should contact their supervisors.
For students currently on campus
For students who are currently on the campus, the Pencader, Rodney and Russell Dining Halls will re-open for dinner from 5-7:30 p.m., today, Aug. 28. The dining halls, along with Kent Dining Hall, will be open on Monday, Aug. 29, for brunch from 11 a.m.-2 p.m. and for dinner from 5-7:30 p.m.
UD Bookstore opening
Festivities associated with the opening of the new UD Bookstore, scheduled this week, have been adjusted with the change in the beginning of the academic year. For the revised schedule, click here.
Additional information will be posted on the University's homepage, Facebook and Twitter as it becomes available. 
The University announced Aug. 25 that student move-in was postponed until further notice and that fall semester classes would not begin on Tuesday, Aug. 30, as originally scheduled.  
Photo by Doug Baker