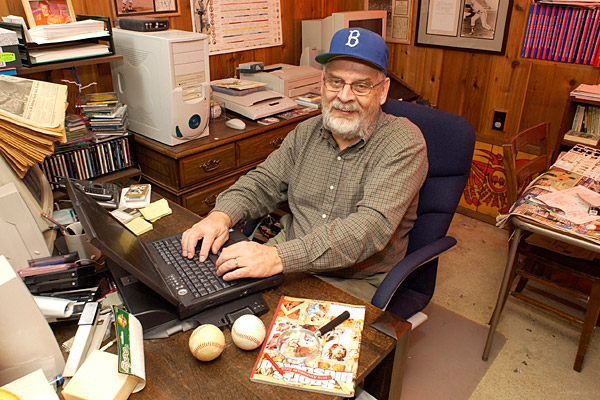 By the numbers
Microbiologist David Smith wins national baseball research award
10:11 a.m., April 5, 2012--Today is Major League Baseball's Opening Day, but UD biology Prof. David W. Smith, a winner of this year's Henry Chadwick Award from the Society for American Baseball Research (SABR), fields hardball questions all year long. 
The queries come by phone and email, from sportswriters, team managers, coaches and fans. Did the Dodgers set a record by having seven sons of Hall of Famers on their spring training roster this year? (Yes.) Has the modern use of designated closing pitchers made teams more likely to hold onto a lead in the final innings of a game? (No. "Closers are incredibly overrated.") Has there ever been a game in which only a single player got on base? (No, but there's been a game with only two baserunners, Sandy Koufax's perfect game, a 1-0 win over the Cubs in 1965.)
National Medal of Science
President Barack Obama recently presented the National Medal of Science to University of Delaware alumnus Rakesh Jain.
Warren Award
Rosalind Johnson, assistant dean for student success in the NUCLEUS Program in UD's College of Arts and Sciences, was presented the John Warren Excellence in Leadership and Service Award during a May 26 ceremony.
And then, there's the question that Smith is asked most often: When did your fascination—some would say obsession—with baseball statistics begin? (July 11, 1958, when his father took him to see Koufax pitch and bought him the big, red Dodgers almanac filled with pages of numbers compiled by Allan Roth, the first team statistician in the sport's history.)
"Other kids might have thought they'd grow up to be Koufax," says Smith, a diehard Dodgers fan who grew up in California. "I wanted to be Allan Roth."
Smith went on to play a few years of college baseball before injuries ended his career as a catcher, then earned a doctorate in microbiology and joined the UD faculty in 1975, where he has won teaching and mentoring honors. But his love of baseball statistics continued and grew into a dream of collecting the play-by-play records of every major league game. He began filling filing cabinets with record books and score sheets and, in 1989, founded the nonprofit Retrosheet to systematically continue compiling those records and making them accessible at no cost to the public.
"People started to realize that you could analyze baseball scientifically, that you didn't have to just rely on people's memories and anecdotes," he says. "I started keeping these records in depth in 1989. The key was the personal computer and then the Internet. The PC didn't just make Retrosheet easier; it made it possible."
In announcing the 2012 Chadwick winners, SABR, which in 2005 awarded Smith its highest honor, the Bob Davids Award, cited the importance of Retrosheet to baseball research.
"A prolific researcher in his own right, Smith's dream of collecting the play-by-play for thousands of games has been surpassed: As of 2012, more than 120,000 play-by-play accounts are available on Retrosheet's website, comprising about 60 percent of the major league games in history," according to the SABR announcement. "Retrosheet is the backbone of so much historical and statistical research, and Smith's vision and generosity have greatly influenced the research community over the past 20 years."
In addition to numerous awards, including the Tony Salin Award presented at the 10th annual Baseball Reliquary ceremony in 2008, Smith has been the subject of a great deal of media attention over the years. He was on the front page of The Wall Street Journal on April 24, 2002, and the 50th anniversary edition of Sports Illustrated in 2004 devoted a full page to him and Retrosheet. Memories and Dreams, the magazine of the National Baseball Hall of Fame, has called him "one of the most important people in baseball history."
Tim Wiles, director of research at the Hall of Fame and Museum, notes that Smith "has mobilized a small army of volunteers and set about a nearly impossible task" in documenting every play of every game for Retrosheet. 
"The work he has done and led is among the greatest contributions ever made to the practice of baseball history," Wiles says. "Though the project predated the web itself, [the Retrosheet website] has become an indispensable source for baseball researchers and writers, and casual fans can use it to quickly find and recall the details of the first game they attended and similar quests."
Smith has provided research assistance to such celebrities as filmmaker Spike Lee, director and actor Billy Crystal, Oakland general manager Billy Beane of Moneyball fame and author Jane Leavy. It was while providing input to Leavy on her 2002 biography of Koufax that Smith found an old reel-to-reel tape his father had made of the radio broadcast of Koufax's perfect game. It turned out to play a major role in Leavy's bestselling book and is believed to be the only recording in existence of nearly the entire game.
When people who know him from Retrosheet learn that he's also a microbiologist and a professor, Smith says, they often comment that his scientific training and mindset must have led to his interest in statistics. But he thinks the process went in both directions.
"For example, I learned my computer skills so that I could help write software to start putting the score card data into the system," he says. "I loved baseball, and I loved the game's statistics, and I think that's what translated and led me into a career as a quantitative scientist. And then, when I came to realize the gaps in the baseball records that have been kept, that led me to Retrosheet.
"In the end, I'm a scientist. With baseball or biology, I like having evidence."
Article by Ann Manser
Photo by Kathy F. Atkinson