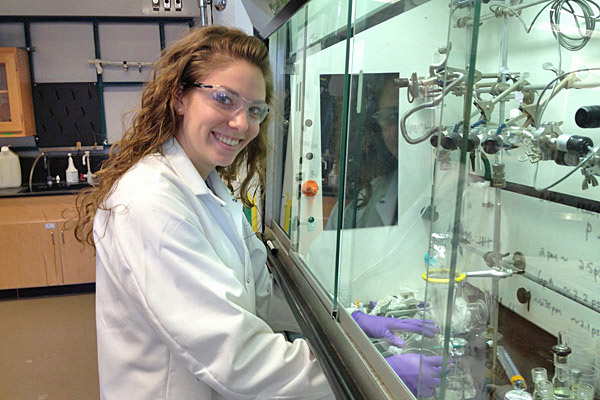 Pushing boundaries
UD undergraduate studies polymers for drug delivery applications
12:06 p.m., April 3, 2012--Imagine if doctors were able to target and treat tumors in the body based on biological signals. It is an attractive scientific idea but a difficult task for researchers focused on developing drug delivery systems due to the body's natural immune system response.
Since the fall of 2010, University of Delaware senior Sarah Hann has been working to create new materials that will facilitate targeted drug delivery. Her research investigates how increased control over micelle structures using block copolymers impacts the efficiency of these delivery systems over time.
Chronic wounds
UD's Millicent Sullivan and Kristi Kiick have received a $1.4 million grant from the National Institutes of Health for research that could provide a new approach to the treatment of chronic wounds.
Prof. Heck's legacy
The American Chemical Society is highlighting the legacy of the late Nobel laureate Richard Heck, the Willis F. Harrington Professor Emeritus of Chemistry at the University of Delaware with a digital tribute on its publications website.
"If we can increase the drug delivery system efficiency through micelle structure control, site-specific targeting in the body becomes possible," Hann, a chemical and biomolecular engineering major, explains.
Micelles are nanometer scale (1/1000th the width of a human hair) capsules formed by certain block copolymers in liquid solution. Hann's work involves analyzing the structural changes in micelle assemblies as a function of time, through a combination of dynamic light scattering, static light scattering and proton nuclear magnetic resonance spectroscopy. 
By cross-linking the water-incompatible micelle cores using a UV lamp and a photo initiator (a chemical compound that generates radicals when exposed to UV light), Hann was able to stabilize and control the micelle structures in water. These micelles are then used to target problem sites in the body -- such as cancerous tumors -- based on the signature biological characteristics of these cell clusters. 
In the near future she will begin imaging the cross-linked micelle assemblies using cryogenic transmission electron microscopy.
Hann's advisers include Thomas H. Epps, III, and Millicent O. Sullivan, both assistant professors in the Department of Chemical and Biomolecular Engineering.
"Sarah's hard work, dedication and enthusiasm have made her an extremely valuable asset to my research group," says Epps. "Her ability to design experiments, analyze her results and provide directions for moving forward hint at great things in the future."
Hann presented her research at the Undergraduate Research in Polymer Science Award symposium, held as part of the American Chemical Society's (ACS) spring national meeting in San Diego, March 25-29. She also received a $150 travel award to attend the conference.
Following graduation this May, Hann plans to continue her education in graduate school. She is currently choosing from among several top, research-based doctoral programs in chemical engineering.
About ACS
The American Chemical Society is the world's largest scientific society with over 164,000 members in 187 geographical sections and 33 technical divisions. The society boasts 38 peer-reviewed publications and hold national meetings bi-annually. 
Article by Zac Anderson