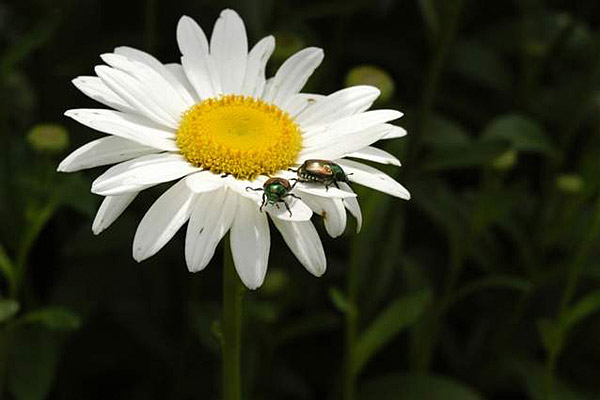 Early arrival
UD Cooperative Extension entomologist says summer insect populations uncertain
11:12 a.m., April 9, 2012--Recently, we've heard water cooler and dinner table pronouncements that it's going to be a bad summer for mosquitoes, stink bugs and other insect pests. Prognosticators cite the mild winter and the fact that insects are out earlier this spring as their rationale.
Not so fast, says Brian Kunkel, University of Delaware Cooperative Extension entomologist. "The mild winter may not make much difference in the size of the insect populations this summer.  In terms of the early spring, yes, most insects are emerging or arriving about two weeks ahead of schedule," he says. "But it's too soon to say what impact -- if any -- this will have on insect populations later this season. There are many variables that could impact different species, either adversely or favorably."
From graduates, faculty
As it neared time for the processional to open the University of Delaware Commencement ceremonies, graduating students and faculty members shared their feelings about what the event means to them.
Doctoral hooding
It was a day of triumph, cheers and collective relief as more than 160 students from 21 nations participated in the University of Delaware's Doctoral Hooding Convocation held Friday morning on The Green.
"Keep in mind, when I refer to insect populations I'm not just talking about pests," he adds. "Beneficial insect populations -- such as lady beetles -- also are vulnerable to these variables." 
On the adverse side of things, some insects have become active sooner than their plant food source has become available. Various factors, not just air temperature, influence when plants bud. Photoperiod -- the relative length of light and dark each day -- is an important trigger for many plant species.
"We could see insect populations crash if their food source hasn't bloomed or leafed out and they can't obtain enough food," says Kunkel.
Plant-eating insects that are host-specific -- meaning they eat only one type of plant or from one plant family -- are more vulnerable to such a crash. 
Weather conditions during the rest of the season can be just as critical to many insect species as what already happened in winter and early spring. 
"If the spring turns cool and damp, it could mean fewer insects in summer," notes Kunkel. That's because cooler, damper weather brings greater number of fungi that attack insects. A hot, dry summer could be even worse. Hot, dry conditions can make it difficult for some insects to survive.
Although Delawareans are tackling pesky insects earlier than usual, there is an upside. At the end of the season you'll say goodbye to these pests that much sooner. 
"The insects are going through their normal life spans, just earlier," points out Kunkel. "For example, you may see Japanese beetles eating your roses earlier than normal this June. But, if that happens, then the beetles may peter out in August, instead of September."
It's anybody's guess as to how bad insect pests will be this summer. But these tips, from Kunkel and the National Pest Management Association, are good advice in any season: 
Trim back tree branches and other plants near the house.
Keep mulch at least 15 inches from your house's foundation.
Get rid of standing water and other sources of moisture.
Make sure you don't have holes in your screen windows and doors.
Seal cracks and small openings along the bottom of the house.
Tightly seal outdoor trash cans.
Learn about good bugs
Beneficial insects play an important role in the garden. Learn how beneficial insects can help manage your pest problems at this Master Gardener workshop to be held from 6-8 p.m., Wednesday, May 2, at the New Castle County Extension office in Newark. Cost is $15. Call 831-COOP to register and for more information.
Article by Margo McDonough
Photo by Danielle Quigley