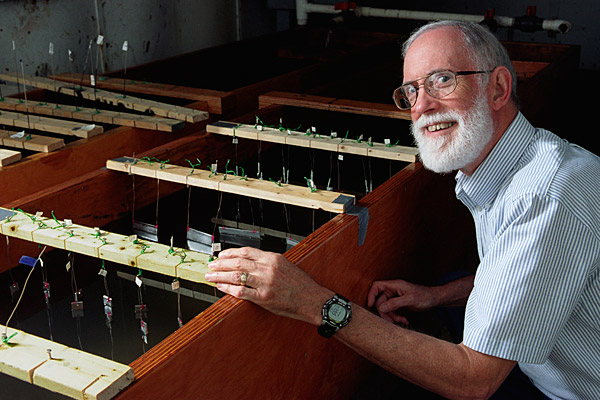 Steering clear of corrosion
Prof. Stephen Dexter recognized for corrosion-fighting contributions
10:58 a.m., April 20, 2012--It's a problem many boaters face after cruising salty waters around Delaware's coast: corrosion. Rivets, rudders and other boat parts can start to disintegrate after seawater contacts different metals and causes damaging chemical reactions.
"Not very many people know anything about corrosion, and yet it affects them," said Stephen Dexter, professor of marine biosciences in the College of Earth, Ocean, and Environment. "It's very common, particularly in a marine environment."
National Medal of Science
President Barack Obama recently presented the National Medal of Science to University of Delaware alumnus Rakesh Jain.
Warren Award
Rosalind Johnson, assistant dean for student success in the NUCLEUS Program in UD's College of Arts and Sciences, was presented the John Warren Excellence in Leadership and Service Award during a May 26 ceremony.
Dexter has made a career out of understanding how corrosion occurs, explaining to many a marina operator and boat owner the science behind the problem and solutions for repairing affected watercraft. His technical explanation of galvanic corrosion, the process described above, is consistently the most frequently downloaded material on the Delaware Sea Grant's website.
Last month Dexter was named a Fellow of the corrosion society NACE International "for outstanding contributions to the corrosion community through leadership in education and research in the areas of corrosion, biocorrosion, corrosion electrochemistry and cathodic protection." The award recognizes distinguished contributions in the fields of corrosion and its prevention.
Dexter studied metallurgy at UD and applied his knowledge of metals' interactions to postdoctoral research on corrosion at Woods Hole Oceanographic Institution in the 1970s. He focused on how biofilm, or green slime made up of bacteria and tiny algae, coats surfaces left in the ocean and affects corrosion. Biofilms accelerate the rate of corrosion thanks to changes in chemistry at different points within the sludge at the microscopic level, and they also produce corrosion-inducing sulfides. 
So what is a boater to do? 
"To avoid microbial corrosion's effects, the mantra is, 'Clean it up and keep it clean,'" Dexter said. 
Washing off biofilm and saltwater can go a long way to prevent crumbling metal, he explained. He also suggests knowing what the chemistry is likely to be based on the boat components and electrical wiring, and using materials resistant to those conditions. Finally, the most widely used corrosion control systems are coating parts with paints or other substances and galvanizing steel with zinc. 
When those approaches do not work, boaters may need to call an expert. Dexter has helped many boaters in southern Delaware, including UD's Marine Operations personnel, figure out what might be causing corrosion and suggested solutions to fix them. 
Sometimes, the answer is correcting the flow of electrical current used to operate the boat. For example, one vessel had an aluminum hull with three magnesium anodes to prevent corrosive effects. The anode closest to shore was eroding rapidly, the next one out was not as bad and the one furthest from the dock was fine.
Dexter surmised there was a reaction going on caused by a faulty connection to shore power, where the electrical cable from the ship plugs into the port facility, since the conditions were worst there. Met with a skeptical reaction, sure enough, the operator found a mistake in a recent rewiring job.
Beyond providing advice and conducting research, Dexter has long taught UD's corrosion course in the College of Engineering and teaches an undergraduate course for non-science majors called "The Oceans." He is finishing a study on corrosion related to wind turbines and plans to retire next year, but in all likelihood will continue advising Delawareans on how to protect their boats.
"Sometimes you can really help someone, and that's very rewarding," Dexter said.
Article by Teresa Messmore
Photo by Bob Bowden