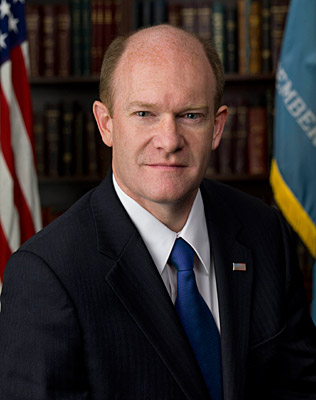 SPPA lecture series
U.S. Sen. Chris Coons speaks about his career and a life-changing experience
1:54 p.m., April 4, 2012--As an undergraduate chemistry and political science double major at Amherst College, it was a chance opportunity to study at the University of Nairobi that forced Chris Coons, "a young Reaganite Republican graduate of Tower Hill," to "change my assumptions."
Assumptions on "why folks are poor, why folks are rich, and the leadership role the U.S. seeks, chooses or changes in the world."
'Resilience Engineering'
The University of Delaware's Nii Attoh-Okine recently published a new book with Cambridge University Press, "Resilience Engineering: Models and Analysis."
Reviresco June run
UD ROTC cadets will run from New York City to Miami this month to raise awareness about veterans' affairs.
Speaking to a packed audience in the University of Delaware's Roselle Center for the Arts on Tuesday night as part of the School of Public Policy and Administration's annual lecture series, Delaware's junior U.S. Senator encouraged all students to do the same. 
"Challenge long-held assumptions," he said. "Do things that push you outside of your comfort zone."  
Speaking only briefly on his career and life-changing experience in Nairobi, Coons spent the majority of the evening candidly addressing questions from audience members. 
"This is your opportunity to take a free shot at a senator," he joked. 
Topics ranged from Kony 2012 ("I'm hopeful the momentum built won't be replaced by the next teen singing about a day of the week"), to campaign finance reform ("After the federal budget, it's the most important issue facing our nation"), to partisan politics ("Republicans are terrified of becoming the next Mike Castle—losing not to a Democrat in the general election but to a Republican in the primary"). 
The lecture was sponsored by UD's School of Public Policy and Administration.  The final two lectures in the series will include addresses by Chancellor Leo Strine and U.S. Sen. Tom Carper.
Article by Artika Rangan Casini