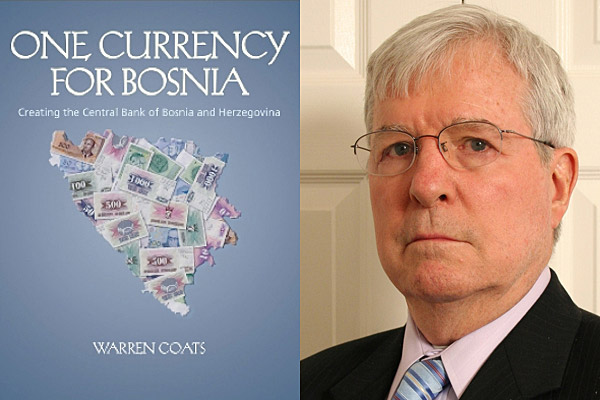 Creating currencies
Challenges, politics and the situation in Greece
4:08 p.m., April 20, 2012--More than 200 students, faculty and community members gathered to hear Warren Coats, author and former International Monetary Fund (IMF) executive, deliver a presentation on "The Challenges of Creating New Currencies: The Implications for Greece" Tuesday evening, April 17, on UD's Newark campus.
Coats, whose speech was part of the annual Hutchinson Lecture in macroeconomics sponsored by the Department of Economics, discussed his experiences working to create new currencies in Bosnia and South Sudan, as well as the implications of these experiences for the path forward should Greece leave the euro system.
From graduates, faculty
As it neared time for the processional to open the University of Delaware Commencement ceremonies, graduating students and faculty members shared their feelings about what the event means to them.
Doctoral hooding
It was a day of triumph, cheers and collective relief as more than 160 students from 21 nations participated in the University of Delaware's Doctoral Hooding Convocation held Friday morning on The Green.
According to Coats, when a country reintroduces its own currency there are a number of facets to consider, beginning with the physical currency itself.
"From a governmental perspective, the currency needs to be designed and printed, but it's not as straightforward and trivial as it sounds," said Coats, who noted that in theory, the printing of new currency can happen quickly but often due to political and sometimes religious environments, can take quite some time.
"When I worked with the central bank of Bosnia and Herzegovina, the currency design was a huge problem when it came to getting all parties to agree on what the note would look like," he said.
"It took one year to get agreement about the main features and in fact, the constitution stated that the governor of the central bank would be nominated from neither Bosnia nor Herzegovina but instead by the IMF. Naming the currency was also a political issue that took many negotiations before everyone agreed."
Coats speculated that should Greece switch back from the euro to the drachma, the currency design should not be as controversial, but did suggest the exchange itself could be problematic.
"Exchanging the new currency for the old would be a serious issue for Greece because no one would want to surrender the euro for a currency that would depreciate," said Coats, who noted that when South Sudan introduced its own currency to replace the Sudanese pound, there was a similar problem to what Greece could face.
Another key to creating currencies, said Coats, is to prepare appropriate and underlying legal tender laws.
"For one, you need a mechanism to replace the old currency with the new one -- how, when and where will people turn in existing currency to get the new currency," said Coats. "You also need to think about the private sector. How will banks and financial firms adjust their accounting and reporting systems? How will merchants with cash registers deal with the change, how will prices be posted in stores?"
Despite his insight on changing currency as one soluble option for Greece, Coats ultimately advised against it.
"Accumulated debt is only one problem for Greece, and there are serious risks and drawbacks should they leave the euro and devalue," he said. "Continued annual expenditures in excess of their income and a lack of competitive products in the world market are other problems the country faces. But yet another key part of the problem is productivity."
According to Coats, Greece does not use capital and labor resources efficiently.
"Greece's capital infrastructure is not the greatest," Coats said. "These factors result in low productivity and while this doesn't relate directly to Greece's debt it does relate to the solution." 
"Greece can cut government expenditures, raise taxes or some combination of the two. But Greece can also undertake market reforms to improve the productivity of Greek workers and use labor more efficiently."
Coats ended his lecture by taking questions from the audience, which ranged in topics from the potential timeline for Greece to complete a currency change to implications and similarities to Greece and the United States living beyond its means. 
About Warren Coats 
Coats retired from the International Monetary Fund (IMF) after 26 years of service in May 2003 to join the board of directors of the Cayman Islands Monetary Authority, where he led IMF technical assistance missions to over 20 central banks.
He is currently part of the IMF program negotiating team for Afghanistan and serves on the editorial board of the Cayman Financial Review.
From 1982 through 1988, Coats was chief of the special drawing rights division in the finance department of the IMF. His latest book, One Currency for Bosnia: Creating the Central Bank of Bosnia and Herzegovina, chronicles his work in establishing the Central Bank of Bosnia and Herzegovina in 1997.
Coats received his bachelor's degree from the University of California at Berkeley and his doctorate in economics from the University of Chicago. 
Article by Kathryn Meier