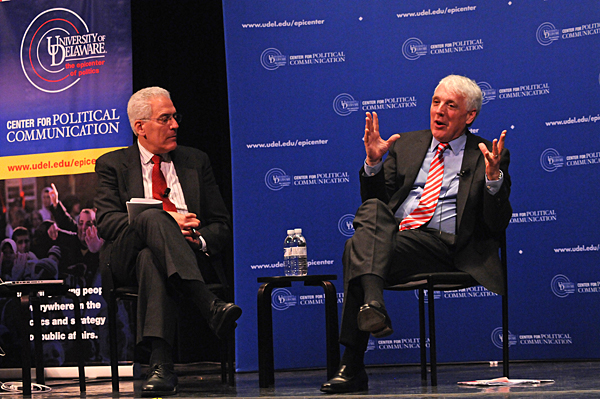 How Europe sees American power
NATO official sees changing world roles for U.S. and European allies
4:20 p.m., May 5, 2011--Despite a long history of military and political cooperation, particularly during World Wars I and II and the Cold War, Americans and Europeans do not always see eye-to-eye on their respective responsibilities in dealing with world events.
Jamie Shea, NATO's deputy assistant secretary general for emerging security challenges, addressed these issues and the importance of continued cooperation between America and its allies during his talk, "The View from Europe," as part of the 2011 Global Agenda speaker series held Wednesday evening, May 4, in Mitchell Hall. 
Fulbright awards
Three University of Delaware students and an alumna have received word this spring that they will travel abroad as part of the newest class of Fulbright Student Program award winners.
Peace Corps plans
Two University of Delaware students, John McCarron and Bridgette Spritz, have been selected as Peace Corps volunteers and will serve in Ghana and Rwanda.
Shea, who served as the North Atlantic Treaty Organization's spokesperson after the collapse of the Soviet Union and the end of the Cold War, said that each new century seems to bring an attitude of hope for positive change.  
The historical reality, he noted, is usually quite different. 
"The 21st century will have as many shocks as the last century," Shea said. "The new generation will face these challenges the same way that we faced ours."
While new economic powerhouses take their place on the world stage, their behavior in world affairs is likely to mirror that of their predecessors, Shea said.
"Emerging great powers will act as great powers do," Shea said. "China, India and a reemerging Russia will all want to define the world as they think it should be."
With the presence of these new entities, the West, for the first time in 500 years, will lose its dominance in world affairs, Shea noted. 
While the United States will continue almost by necessity to maintain its leadership role, it also will need determined and persistent support from its friends, he said. 
"It's going to be a real hard slog to get results," Shea said. "Supporting democracy in North Africa will take a very long-term investment, and it is going to take years of efforts to prevent Iran from having nuclear weapons."  
Another misconception, Shea noted, is that elections will provide new messiahs that will produce overnight results in dealing with current problems.  
"Change does not really occur," Shea said. "President Obama has not been any softer on terrorism than George Bush, as events of the last week prove." 
With American support of NATO rising from 50 percent to 75 percent since the organization was founded, Shea said the United States feels frustrated at what it views as a lack of defense efforts from its European partners.
"Some feel that America thinks Europe is a done job, that the Cold War is over and that Russia is no longer a threat, while many new NATO members in Central Europe still see a need for American guarantees," Shea said. "Europe will have to accept that it is not first on the list of people who will be meeting [U.S. Secretary of State] Hillary Clinton in the morning." 
Shea said that there are many areas of opportunities for the United States and Europe to work together, and that while NATO should not force democracy on other nations it should definitely help to expand such movements. 
"We have to ask if United States foreign aid is going where it is needed," Shea said. "We should concentrate on helping countries whose destinies can change entire regions, like Turkey and Egypt." 
While the military role of NATO may change, immediate issues where cooperation is critical include getting the financial houses of member nations in order, working to reduce vulnerability to cyber attacks and the safeguarding of nuclear materials, he said.
"We tend to come awake at a crisis, and when crisis is over, we don't do anything to prevent the next one," Shea said. "We need to have more transatlantic dialog and to talk about the things we are likely to face." 
Global Agenda, now in its 10th season, is presented by the Center for Political Communication, with support from the Institute for Global Studies and the UD departments of Communication and Political Science and International Relations.
The series is moderated by Ralph Begleiter, director of the UD Center for Political Communication.
The National Agenda speaker series will be held during fall 2011. 
Article by Jerry Rhodes
Photo by Duane Perry