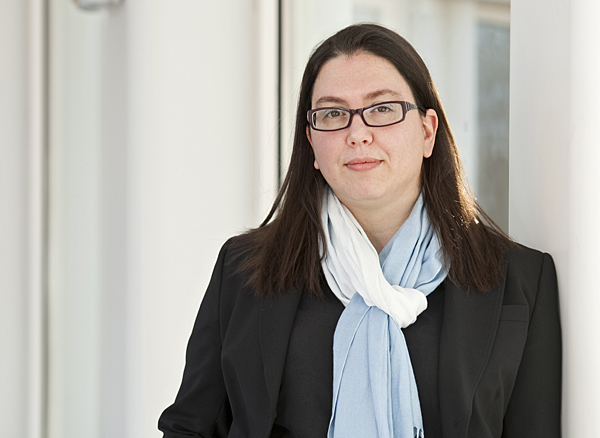 Good storytelling may trump bad credit
UD, Rice University researchers analyze lending data
11:15 a.m., May 23, 2011--If you can tell a good story to explain a less-than-stellar credit score, you might improve your chances of getting a micro loan from a peer-to-peer lender, according to new research from the University of Delaware and Rice University.
Michal Herzenstein, assistant professor of marketing at UD, along with researchers Scott Sonenshein and Utpal Dholakia from Rice University, found that in peer-to-peer lending, unverifiable information such as personal narratives and explanations affected lending decisions above and beyond objective, verifiable information like credit scores and histories.
Chronic wounds
UD's Millicent Sullivan and Kristi Kiick have received a $1.4 million grant from the National Institutes of Health for research that could provide a new approach to the treatment of chronic wounds.
Prof. Heck's legacy
The American Chemical Society is highlighting the legacy of the late Nobel laureate Richard Heck, the Willis F. Harrington Professor Emeritus of Chemistry at the University of Delaware with a digital tribute on its publications website.
The study builds on prior research by Herzenstein and UD colleague Rick Andrews, interim dean of the Alfred Lerner College of Business and Economics and professor of business administration, about how peer-to-peer lending has changed the way traditional financial institutions conduct their business.
In two new studies, Herzenstein, Sonenshein and Dholakia analyzed data from Prosper.com, one of the world's largest peer-to-peer lending marketplaces with over one million members and $233 million in funded loans, where borrowers and lenders can connect without bank or institution.
On Prosper.com, borrowers post loan requests between $2,000 and $25,000; individual investors then review the listings, considering everything from credit scores, ratings and histories to borrowers' personal loan descriptions, community affiliations and endorsements from friends. Once the process is complete, borrowers make fixed monthly payments and investors receive a portion of those payments directly to their Prosper account.
In the first of the new studies, the researchers found that micro-lenders were more likely to offer loans to borrowers who explained, and then admitted or denied, the details of their credit history. 
For example, if a borrower acknowledged that he made mistakes in the past and defaulted on payments but amended his actions, makes payments on time and learned something in the process, his perceived trustworthiness as a borrower increases. As a result, the borrower improves his chance of securing a loan, despite the lack of hard evidence to support the claim that he learned from his past mistakes.
In fact, the research showed that 65.3 percent of all loan requests that included similar statements were funded, compared with only 45.8 percent of the loans that did not include such statements. 
In the second study, the researchers analyzed the six different identities – trustworthy, successful, economic hardship, hardworking, moral and religious – that borrowers constructed for themselves in the loan application's optional essay. The results showed that borrowers in the sample could lower their costs by almost 30 percent and saved about $375 in interest charges by using a trustworthy identity.
Herzenstein and her colleagues also found that borrowers with lower credit grades constructed more identities to compensate for their objectively poor circumstances.
The more identities the borrowers constructed, the more likely lenders were to fund the loan and reduce the interest rate but the less likely the borrowers were to repay the loan – 29 percent of borrowers with four identities defaulted, where 24 percent with two identities and 12 percent with no identities defaulted.
According to Herzenstein, this reveals that while "talk is cheap" (i.e., claiming identities in a loan request) it does affect important financial outcomes for borrowers (they get their loan request funded).
"By analyzing the accounts borrowers give and the identities they construct, we can predict whether borrowers will pay back the loan above and beyond more objective factors like their credit history," said Herzenstein. "In a sense, our results offer a method of assessing borrowers in ways that hark back to the earlier days of community banking when lenders knew their customers."
Further analysis showed that while claiming to be successful or trustworthy helps borrowers get the money they need, these claims do not help lenders predict which borrowers will default. Instead, borrowers claiming to be moral are less likely to default and those claiming to have economic hardship are more likely to default.
One explanation for these results is based on other research that originated at UD. Dan Freeman, associate professor of marketing, and colleagues from the University of British Columbia show that when people publicly state, "I am a moral person," they are more likely to see it as a psychologically binding commitment that influences their behavior.
But for an economic hardship identity, while borrowers who claim it may be authentic and transparent, ultimately it is difficult for those borrowers to transcend their challenging objective circumstances that led them to construct the identity in the first place.
The first study, "How Accounts Shape Lending Decisions Through Fostering Perceived Trustworthiness," was published in the December 2010 issue of Organizational Behavior and Human Decision Processes. The second study, "Tell Me a Good Story and I May Lend You My Money: The Role of Narratives in Peer-to-Peer Lending Decisions," will be published in November, 2011, in the Journal of Marketing Research's special issue on consumer financial decision-making.
Article by Kathryn A. Marrone
Photo by Evan Krape