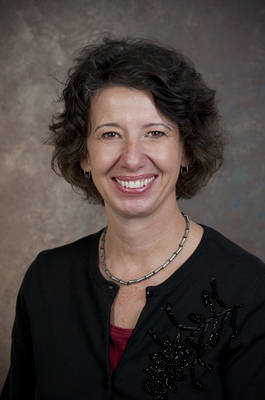 Prestigious public relations fellowship
UD's Bartoo awarded Plank Center fellowship for summer 2011
10:06 a.m., May 12, 2011--Caroyln White Bartoo, instructor in the University of Delaware's Department of Communication, has been awarded a prestigious fellowship by the Plank Center for Leadership in Public Relations for the summer of 2011.
The Plank Center was established in 2005 at the University of Alabama to develop and support leadership in public relations education and practice.
National Medal of Science
President Barack Obama recently presented the National Medal of Science to University of Delaware alumnus Rakesh Jain.
Warren Award
Rosalind Johnson, assistant dean for student success in the NUCLEUS Program in UD's College of Arts and Sciences, was presented the John Warren Excellence in Leadership and Service Award during a May 26 ceremony.
Bartoo serves as the faculty adviser to the Public Relations Society of America's pre-professional chapter at UD and teaches public relations and advertising courses related to marketing. She is also director of the communication department's internship program and directs all social media platforms for the department. 
The highly competitive Plank Center fellowship allows public relations instructors to spend time with representatives of public relations firms to bridge academic and professional practice. The program is a two-week opportunity to visit and work in a major company, non-profit or public relations agency in cities throughout the United States to give the faculty member a taste of the realities of public relations today.
Bartoo will work with Ketchum Inc. in Chicago through the fellowship. "I am thrilled to be placed in an agency, particularly one of the caliber of Ketchum. I've been away from full-time public relations work for seven years," said Bartoo, "so this will be an 'immersion' program for me to 'refresh' my working knowledge of the profession. I've been joking with my students that I secured my own internship for the summer."
Bartoo said her main goal "is to better understand how today's strategic communication professionals use social media in campaigns. Students tend to think because they live on Facebook or because they tweet, that they 'get' social media. That's like saying because I can make macaroni and cheese I can be a professional chef. It's two totally different things. Personal use is nowhere close to the strategic, professional use of this ubiquitous tool."
Also, she said, "I want to get a sense of what it's like to work in the fast-paced setting of a major multi-national agency."
The experience will undoubtedly spill over into the pool of the classroom. "My students will benefit because my own 'tool kit' will be substantially recharged by this experience and that will inform how I present course content and create assignment-experiences for them," Bartoo said, adding, "I hope it expands my point-of-view so I may, in turn, expand theirs. I try my best every class I teach to share all I know about strategic communication and the working world with my students, and will boost my ability to help them even more."
Given the honor of the fellowship and the benefits it will provide, Bartoo said, "I really can't wait. Being chosen for this is one of the highlights of my year."
Bartoo is blogging about her fellowship at this site.
Article by Kayla Codina
Photo by Kathy F. Atkinson