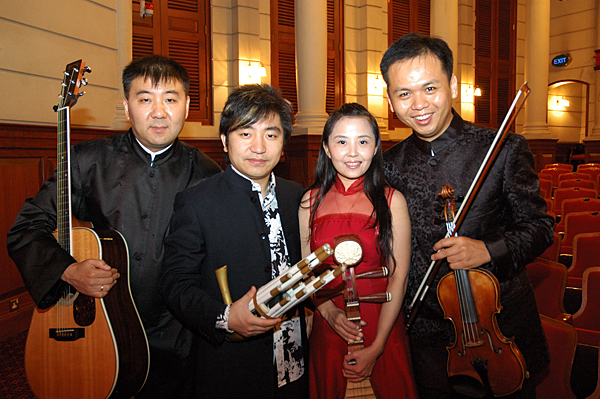 April 15, 16: China Magie to perform
Master Players Concert Series to feature iMusic4
11:29 a.m., March 28, 2011----The seventh annual University of Delaware Master Players Concert Series season finale iMusic 4 features China Magpie from YoYo Ma's Silk Road Project, with concerts at 8 p.m. on both Friday, April 15, and Saturday, April 16, in Mitchell Hall.
The iMusic productions created by UD's Xiang Gao, internationally known violinist and Master Players Concert Series (MPCS) founding artistic director, are creative and engaging pops concerts that humanize music in ways audiences have never imagined.
June 5: Blue Hen 5K
University of Delaware graduates planning to attend Alumni Weekend are encouraged to register for the annual Blue Hen 5K walk and run, which will be held Sunday morning, June 5.
June 6-9: Food and culture series
The 20th annual June Lecture Series at the Osher Lifelong Learning Institute at UD in Wilmington will be held June 6-9. Titled 'June a la Carte,' this year's program focuses on great political documents, feminism, world politics and a Newark cuisine sampler.
Last year, iMusic 3 celebrated the 40th anniversary of Earth Day with many of today's leading artists and the cross-generational MPCS audience.
This year, the internationally acclaimed ensemble China Magpie, of which Gao is a founding member, returns for its third appearance with MPCS. Established by Yo-Yo Ma and Silk Road Project, China Magpie performs crossover music with its own arrangements and compositions.
The Boston Globe cited China Magpie for its "vibrant playing, urgent communication and energetic rhythm borrowed from rock music."
The two concerts also celebrate the U.S. release of China Magpie's first album. The group is releasing its debut compact disc in North America in late April, and at these two concerts only the audience will be able to get the CD before it goes on the market.
These fun family events are appropriate for children age four and up and sell out quickly, so those who plan to attend are encouraged to reserve their tickets today.
MPCS tickets cost $25 for the general public; $20 for senior citizens, UD faculty, staff and alumni; and $10 for students with ID. Tickets are available at the REP box office in the Roselle Center for the Arts, telephone 302 831-2204.
For more information about the MPCS, visit the website.
China Magpie
In 2004, Grammy winning Chinese rock and folk singer Wu Tong and Gao, UD's world-class faculty violinist, founded the crossover ensemble China Magpie as part of the Silk Road Project. With no musical boundaries, the ensemble's unique repertoire presents a unique mix of traditional Chinese music and different styles of Western music from classical to rock.
China Magpie's strong belief in fresh and edgy interpretation of traditional Chinese music, coupled with each member's virtuoso technique and rare instrumentation (voice, sheng, pipa, violin and guitar) makes them one of the most creative and promising music ensembles on the world stage today.
The four-member ensemble has appeared in many of the world's major concert halls, TV productions and festivals since 2004. They have successfully introduced important Chinese traditional music in live concerts, and have collaborated with such ensembles as the Silk Road Ensemble, the Chicago Symphony, Hong Kong Chinese Orchestra, among many others in North America, Europe and Asia.
In China, China Magpie regularly performs for televised national celebration events.
China Magpie is also very passionate on promoting music and music education. In the past six years, they have performed and lectured at the Harvard University, University of Chicago, China Central Conservatory of Music, Art Institute of Chicago, University of Delaware, Rubin Museum of Himalayan Art in New York City to name just a few.
China Magpie has continuously provided opportunities for emerging musicians to collaborate with the ensemble in performing and recording new music.