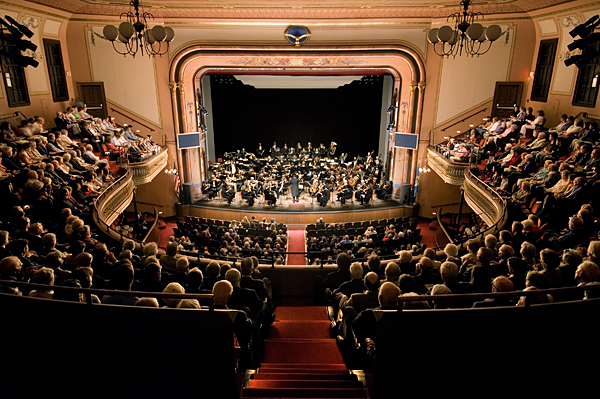 April 15, 16: A grand presentation
UD chorus, Delaware Symphony to perform Mahler work
1:23 p.m., March 29, 2011--A University of Delaware chorus joins the Delaware Symphony Orchestra for its performance of Gustav Mahler's prolific Symphony No. 2, "Resurrection" at the Grand Opera House in Wilmington, Del., on Friday and Saturday, April 15 and 16.  The concerts will begin at 8 p.m. both nights.
Mahler's Second Symphony is noted for its religious setting and reflection on the idea of life after death. Soloists Turid Karlsen and Robynne Redmon are also featured in the five-movement masterpiece. This work brings to the stage the largest ensemble ever assembled at the Grand Opera House.
June 5: Blue Hen 5K
University of Delaware graduates planning to attend Alumni Weekend are encouraged to register for the annual Blue Hen 5K walk and run, which will be held Sunday morning, June 5.
June 6-9: Food and culture series
The 20th annual June Lecture Series at the Osher Lifelong Learning Institute at UD in Wilmington will be held June 6-9. Titled 'June a la Carte,' this year's program focuses on great political documents, feminism, world politics and a Newark cuisine sampler.
Karlsen, a native of Oslo, Norway, is described as performing with a "purity of sound and emotional commitment." She has performed with countless opera companies internationally, including those in Los Angeles, Orlando, and Dallas. 
Redmon, a renowned mezzo-soprano, has performed with the likes of the Montreal Symphony Orchestra and the Seattle Symphony.  After her debut with the Metropolitan Opera in 1996, she continued to make many debuts internationally. 
The UD chorus will feature members of the University Chorale, the highly-decorated student ensemble, and Schola Cantorum, a town and gown ensemble featuring students, faculty, staff and members of the community.
Tickets ($27-$57, or $10 for students) can be purchased by calling the Grand Opera House Box Office at 302-652-5577 or 800-374-7263, or online at the Grand's website.
For additional information, visit the Delaware Symphony Orchestra online, or contact Chris van Bergen in the orchestra's administrative offices at 302-656-7442.
Turid Karlsen, soprano
Karlsen was born in Oslo, Norway, and studied with Mija Besselink in Maastricht, the Netherlands, and Ingrid Bjoner in Oslo. She has been a member of the Opera Ensemble of Germany's Badisches Staatstheater Karlsruhe (1985-1992) and Oper der Bundesstadt Bonn (1992-1997).
Robynne Redmon, mezzo-soprano
Redmon has earned international acclaim for her artistry as a singer and as an actress. Critics have hailed her for "glorious singing, intense acting, excellent phrasing, ardent tone, splendid shading and solid coloratura and excellent artistic sense" (Das Opernglas) and for her "exactitude of pitch, her luxuriance of tone, her abundant animal spirit and unerring dramatic intelligence" (Newsday).
She has performed leading roles with the major opera houses of the world including The Metropolitan Opera, Lyric Opera of Chicago, San Francisco Opera , the Bavarian State Opera, Teatro alla Scala, Berlin State Opera and Opera de Marseilles.
David Amado, music director
Amado, a Philadelphia native, has been praised by the media, audiences and fellow musicians for his deep insight, visceral energy and imaginative programming. These qualities have allowed him to reinvigorate the Delaware Symphony, turning it into a premier regional orchestra.
Descended from a long line of fine musicians, Amado continues his family's tradition. He showed a predilection for music at a very early age, but it was not until high school that he became dedicated to a musical career while training in the pre-college division of Juilliard.  He continued his college years at Juilliard, studying piano while simultaneously exploring other facets of music, including the world of the orchestra. Amado received his master's in instrumental conducting at Indiana University. 
After graduating he returned to study again at Juilliard, but as a conductor, with Otto-Werner Mueller.  His first job was an apprenticeship with the Oregon Symphony, followed by a six-year tenure with the St. Louis Symphony Orchestra. In November 2008, Amado conducted the Virginia Symphony. Other recent highlights of his career include engagements with the Philadelphia Orchestra, the Los Angeles Philharmonic, the Royal Stockholm Philharmonic, the Houston Symphony, the New World Symphony and the Detroit Symphony.
Delaware Symphony Orchestra
Over a century in the making, the Delaware Symphony Orchestra has become a significant cultural and economic asset to the Delaware Valley.  The ensemble serves 55,000 audience members annually through a wide array of programming.  In addition to traditional concert programming, the orchestra is dedicated to serving the educational needs of the youngest members of the community.  Thanks to the DSO, more than 10,000 children receive exposure to the arts each year through partnerships with schools across the state as well as area non-profit mentoring agencies.  
The Delaware Symphony recently celebrated the international release of its critically-acclaimed recording with the Los Angeles Guitar Quartet on the Telarc Record label.