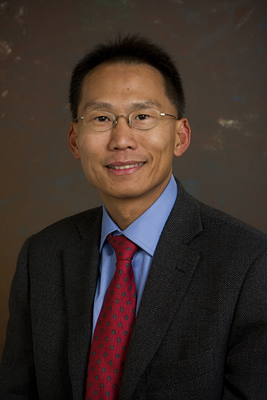 New named professor
Chen is new Gore Professor of Chemical Engineering
9:44 a.m., March 17, 2011----The University of Delaware's College of Engineering has welcomed Wilfred Chen as the new Gore Professor of Chemical Engineering.
Chen, who joined UD on Jan. 1, succeeds Abraham M. Lenhoff, who is now Allan P. Colburn Professor of Chemical Engineering.
'Resilience Engineering'
The University of Delaware's Nii Attoh-Okine recently published a new book with Cambridge University Press, "Resilience Engineering: Models and Analysis."
Reviresco June run
UD ROTC cadets will run from New York City to Miami this month to raise awareness about veterans' affairs.
An experienced researcher dedicated to the innovation of new technologies, Chen's work involves harnessing energy from biological sources to cure diseases, purify protein pharmaceuticals and create biofuels.
"We are thrilled to welcome Wilfred to our esteemed faculty," said Norman Wagner, chair of the Department of Chemical Engineering. "His expertise enhances both our growing biomolecular engineering research program and substantial sustainable energy research efforts."
"I look forward to applying my expertise in bioenergy and biomedical applications to strengthen the biochemical engineering research focus in the department, and to help attract qualified graduate students to our programs," added Chen.
Chen hails from the University of California, Riverside (UCR), where he served as Presidential Chair of Chemical Engineering from 2006-2010. A fellow of the American Association for the Advancement of Science (AAAS), he is a member of the American Institute of Chemical Engineers, the American Chemical Society and the American Society of Microbiology.
His research has been funded through the National Science Foundation, the U.S. Department of Energy and the Environmental Protection Agency, among others.
"Wilfred is a great addition that adds to UD's efforts to bridge the gap between medicine, engineering and biomedical research," added Michael J. Chajes, dean of the College of Engineering.
Chen has published more than 190 journal papers and delivered over 50 invited lectures. He serves on the editorial board for eight scientific publications and is a reviewer for more than 40 journals.
He earned his bachelor's degree in chemical engineering at the University of California, Los Angeles, and his doctoral degree in chemical engineering from the California Institute of Technology. He also spent a year conducting post-doctoral research at the Institute of Biotechnology, ETH-Honggerberg, in Zurich, Switzerland.
About the professorship
The Gore professorship honors the Gore family, including Robert W. Gore '59, Sarah I. Gore '76M and the late Genevieve W. Gore. Robert W. Gore, a 1959 chemical engineering graduate of UD, served as president of W.L. Gore and Associates, Inc., and was a member of the UD Board of Trustees. In 1990, Gore received the College of Engineering Distinguished Alumni Award and he was inducted into UD's Alumni Wall of Fame in 1992.
Article by Karen B. Roberts
Photo by Ambre Alexander