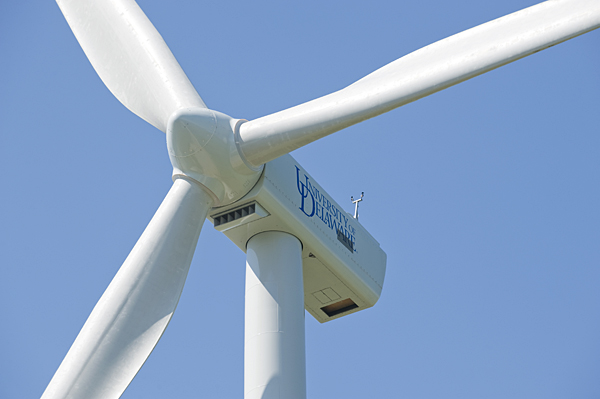 June 23: Wind turbine research
Public invited to learn about ongoing research at turbine anniversary event
11:21 a.m., June 13, 2011--How much energy does the University of Delaware's wind turbine create? What kinds of research are taking place on it? Find out at 7 p.m., Thursday, June 23, when the University will hold a seminar about the structure located at its Hugh R. Sharp Campus in Lewes.
"The turbine has been in operation for one year this June," explained Nancy Targett, dean of UD's College of Earth, Ocean, and Environment. "This milestone is an excellent opportunity to provide the public with an update on our research efforts and an overview of power generation data to date."
June 5: Blue Hen 5K
University of Delaware graduates planning to attend Alumni Weekend are encouraged to register for the annual Blue Hen 5K walk and run, which will be held Sunday morning, June 5.
June 6-9: Food and culture series
The 20th annual June Lecture Series at the Osher Lifelong Learning Institute at UD in Wilmington will be held June 6-9. Titled 'June a la Carte,' this year's program focuses on great political documents, feminism, world politics and a Newark cuisine sampler.
The presentation is free and open to any members of the public interested in learning more about the wind turbine. It will take place in Room 104 of Cannon Lab at the Lewes campus.
In addition to powering the campus with clean energy, the 2-megawatt turbine serves as a critical research and educational tool for university, industry, federal, and community partners.
One of several research projects to be discussed at the seminar is an evaluation of the turbine's susceptibility to corrosion, a special challenge in the moist salty air of coastal regions. The effort is expected to provide insights on increasing turbine durability.
Other projects to be discussed are helping to answer a common question about wind turbines: How do they affect birds and bats? UD and Delaware State University scientists are using acoustic monitoring, visual surveys, radar, and thermal imaging to assess bird and bat traffic and flight patterns near the Lewes turbine. 
Support for the projects comes from several sources, including the U.S. Department of Energy, First State Marine Wind, turbine manufacturer Gamesa, Delaware Department of Natural Resources and Environmental Control, and Maryland Department of Natural Resources.
In addition to discussing ongoing research, the June 23 presentation will include summaries of a post-construction sound study and a report on how much energy the wind turbine has delivered since its inception. 
Article by Elizabeth Boyle
Photo by Evan Krape