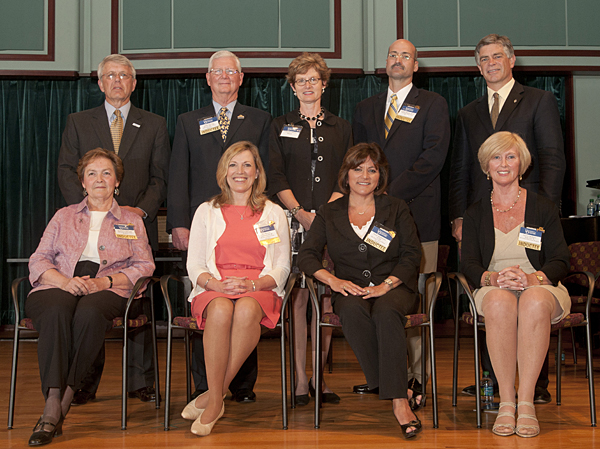 Notable Blue Hens
10 distinguished alumni honored on UD's Wall of Fame
3:24 p.m., June 6, 2011--Ten University of Delaware alumni were honored for their exceptional achievements by being inducted into the Alumni Wall of Fame, in a ceremony June 4 in the Gore Recital Hall of the Roselle Center for the Arts.
Held during Alumni Weekend festivities, the ceremony honored Leon W. Adams Sr., 1941; Douglas Blonsky, 1981; John E. Eckerson, 1987; Edgar N. Johnson Jr., 1967, 1970; Nancy Lee Karibjanian, 1980; Rita Mariani Landgraf, 1980; James H. Miller, 1977; John W. Morgan III, 1979; Patricia Orris Robertson, 1972; and Suzanne McMahon Sears, 1978. 
From graduates, faculty
As it neared time for the processional to open the University of Delaware Commencement ceremonies, graduating students and faculty members shared their feelings about what the event means to them.
Doctoral hooding
It was a day of triumph, cheers and collective relief as more than 160 students from 21 nations participated in the University of Delaware's Doctoral Hooding Convocation held Friday morning on The Green.
Alan Brayman, president of the UD Alumni Association and host of the ceremony, said, "Our recipients' level and diversity of accomplishments serve as a testament that a degree from the University of Delaware provides the foundation for the many wonderful opportunities that await our graduates….
"The worldwide recognition these individuals have gained brings pride to the University of Delaware and inspires fellow alumni and students alike." 
Sarah LaFave and Matt Watters, two of the University's most recent graduates and recipients of this year's Warner and Taylor awards as outstanding senior woman and man, discussed the opportunities that the University provided them during their undergraduate careers. 
LaFave has received national recognition for founding Lori's Hands, a registered student organization that connects volunteers with the chronically ill. "I have never been alone in this journey because of my UD family," she said. 
Watters, UD's 12th Rhodes Scholar, founded two groups at UD: the Society of Neuroscience and Students for Haiti, which raised more than $66,000 to rebuild a hospital destroyed in the 2010 earthquake. Watters said what sets UD apart from its peers is simple: "The University has never said no."  
UD President Patrick Harker congratulated the newest members of the Alumni Wall of Fame. "Many Blue Hens -- those enrolled and those already graduated -- have the opportunities and advantages they do precisely because of the people we honor today. And so, when I consider our 10 Wall of Fame inductees, I see the University of our aspirations."
The Class of 2011
Leon W. Adams Sr. earned his bachelor's degree in agriculture in 1941. After serving in the U.S. Army Air Corps, he returned to Delaware, eventually opening an insurance agency in Newark. In 1986, he earned the industry's highest honor, "Agent of the Year" by the Travelers Insurance. He was a lifelong supporter of the University and Blue Hen football. Mr. Adams died in 2009. His late brother, Thurman G.  Adams Jr., was inducted into the Alumni Wall of Fame in 1991. 
Douglas Blonsky earned his bachelor's degree in plant science from UD in 1981. Since 2004, he has served as president of New York City's Central Park Conservancy, with official oversight of the park's day-to-day operations and maintenance, including $350 million in capital projects. Under his leadership, a number of noteworthy restoration projects have been completed at the park. He serves as host to UD students and faculty visiting Central Park and has returned to campus several times to meet with students. 
John Eckerson received his bachelor's degree in accounting in 1987. In 2005, he and two other senior members of Citigroup's global credit training department left Citi to found Claren Road Asset Management, a $5 billion long-short hedge fund with 37 employees and offices in New York, Hong Kong and London. Eckerson is a member of the Lerner College Advisory Board and has made several generous gifts to the college, including the establishment -- with his wife, Jennifer -- of an endowed scholarship for a Delaware undergraduate. 
Edgar N. Johnson earned his bachelor's degree in physical education in 1967 and his master's degree in education in 1970. He has spent his entire professional career at UD, serving as director of athletics from 1984 to 2009. His 25-year tenure, one of the nation's longest among NCAA Division I athletic directors, was marked by unprecedented success and sweeping change. Johnson now serves as associate professor of sports management. A scholarship in his name is presented annually to a UD student-athlete who demonstrates the characteristics of leadership, commitment and integrity that have marked his career at UD. 
Nancy Karibjanian received her bachelor's degree in communication in 1980. Currently vice president of Delaware First Media, Delaware's statewide multimedia news service, she was a well-known figure in Delaware television for more than 20 years, which included anchoring WHYY-TV's former nightly news program Delaware Tonight. Since 2003, Karibjanian has served as an adjunct broadcast journalism professor in the Department of Communication, teaching students about the nature of news, news professionalism and ethics, as well as writing and technical skills. 
Rita Mariani Landgraf earned her bachelor of science degree in community and family studies in 1980. She served as executive director of the Arc of Delaware from 1989 to 2001 and was president of AARP Delaware from 2006-2009. Since 2009, she has served as secretary of Delaware's Department of Health and Social Services, the principal state agency charged with keeping Delawareans healthy. Landgraf has chaired the UD Center for Disabilities Studies advisory council and has participated in UD events, including its Partnership conference series. 
James H. Miller received his bachelor's degree in electrical engineering in 1977. With more than 35 years of diverse experience in the electricity industry, he currently serves as chairman, president and chief executive officer of PPL Corp. He also serves on PPL's Corporate Leadership Council, which sets the strategic direction for the company and its subsidiaries. In April 2010, Miller was a speaker the Department of Electrical Engineering's Distinguished Lecture Series, where he spoke on the trials and challenges of being in the electricity-generating business.  
John W. Morgan III earned his bachelor of science degree in criminal justice in 1979. A lieutenant general in the U.S. Army, he is the highest-ranking UD alumnus now serving in the Army. In 2010, he assumed command of Headquarters Allied Force Command Heidelberg, a multinational NATO headquarters. He has returned to the campus, including last month's commissioning ceremony, to meet with Army ROTC cadets and provide personal and professional mentoring. In addition, his review and recommendations for changing the military science curriculum resulted in substantial improvements in the preparation of UD. 
Patricia Orris Robertson earned her master's degree in marine biology in 1972. She spent time in industry and taught at St. Andrew's School in Delaware and in Florida. Returning to Delaware, she met Du Pont scientist Charles Robertson, her future husband. They started NanoDrop Technologies Inc., where she was a managing partner with responsibility for finances and human resources until it was sold in 2007. She was a founding member and continues to serve on the College of Earth, Ocean, and Environment's Dean's Advisory Council. 
Suzanne McMahon Sears received her bachelor of science degree in business education in 1978. In 2006, she was named vice president of global market development and appointed a corporate officer of the Kimberly-Clark Corp., where she is responsible for driving global marketing strategies or a $3 billion division of Kimberly-Clark. Sears and her husband, James, who is also an alumnus, served on the UD Parent Board from 1999 to 2004, including a year as co-presidents. In 2006, they were presented the UD Alumni Association's Outstanding Alumni Awards. 
Photo by Duane Perry