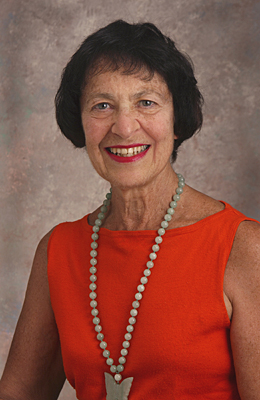 UD's Colman in top 50
Colman ranks in top 50 most prolific authors in Biochemistry
12:39 p.m., June 27, 2011--Roberta Colman, Willis F. Harrington Professor Emerita of Chemistry and Biochemistry at the University of Delaware, ranks 23rd in the journal Biochemistry's 50 most prolific authors. The journal, published by the American Chemical Society, is celebrating its 50th year of publication this year.
In "Celebrating 50 Years of Cutting-Edge Biochemical Science," the journal's editor-in-chief, Richard N. Armstrong, acknowledges the 50 most prolific authors, noting that "the readers and editors appreciate their long history of support and their choosing Biochemistry as a venue for publishing their science." 
National Medal of Science
President Barack Obama recently presented the National Medal of Science to University of Delaware alumnus Rakesh Jain.
Warren Award
Rosalind Johnson, assistant dean for student success in the NUCLEUS Program in UD's College of Arts and Sciences, was presented the John Warren Excellence in Leadership and Service Award during a May 26 ceremony.
Armstrong points out that Biochemistry was launched in 1962 when science and technology in the United States were rapidly expanding. The journal's founding editor and all 12 associate editors were all either current or eventual electees to the National Academy of Sciences, and one became a Nobel Laureate.
Colman is one of only four women in the distinguished group of 50. She has published 79 research articles in Biochemistry so far, with the latest appearing in January 2011. To date, Colman has authored 264 articles in peer-reviewed scientific journals.
Colman's research has sought to understand the catalytic activity of enzymes in terms of protein structure — work that has important implications for human health.
For example, the enzyme glutathione S-transferase (GST), which Colman has studied, plays an important role in detoxifying foreign chemicals (xenobiotics). Research has shown that the elevation of GST levels in solid tumors is a major factor in why cancer patients develop resistance to chemotherapy treatment.
Another focus of Colman's lab has been adenylosuccinate lyase (ASL). Deficiency of this enzyme in humans is associated with mental retardation, and autism. Colman has worked to understand the chemical and structural contributions to catalysis by normal ASL and the molecular basis for decreased activity in patients with a deficiency of the enzyme.
Colman also has studied two isocitrate dehydrogenases (IDH), which play important roles in heart health. In heart failure, decreases in one of the enzymes are associated with decreased oxidative metabolism and energy production. In contrast, other IDHs play a major role in protecting against oxidative stress in the heart.
Colman's latest recognition augments a long list of honors. Besides her named professorship at UD, she initiated and directed for 16 years the University's Chemistry-Biochemistry Interface Graduate Program, which is supported by the National Institutes of General Medicine and is designed to train new chemists and biologists who can discuss biological and biomedical problems in a common language.
She won the Francis Alison Award — UD's highest faculty honor — in 1985 for making "the most outstanding contributions to her field of inquiry" and received the College of Arts and Sciences Scholar Award in 2002.
A fellow of the American Association for the Advancement of Science, Colman received the Herbert A. Sober Award for outstanding scientific achievement from the American Society of Biochemistry and Molecular Biology in 1996, and the Delaware Section of the American Chemical Society Award for Scientific Achievement in 1990. She has chaired the Division of Biological Chemistry of the American Chemical Society and has been a member of the U.S. National Committee for the International Union of Biochemistry and Molecular Biology. She has served on the editorial boards of multiple biochemical journals.
Colman received her bachelor's and doctoral degrees from Harvard University. She served on the faculty of Washington University School of Medicine and Harvard Medical School before joining the UD faculty in 1973.
Article by Tracey Bryant
Photo by Kathy F. Atkinson