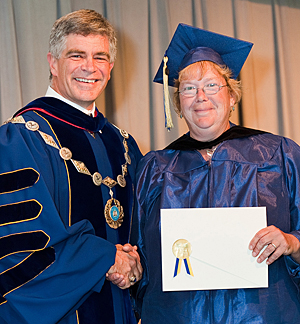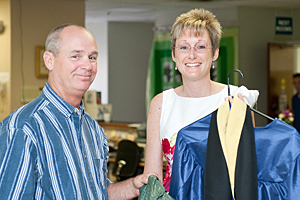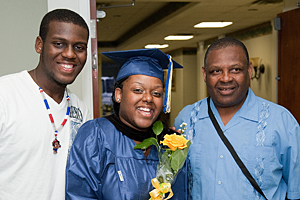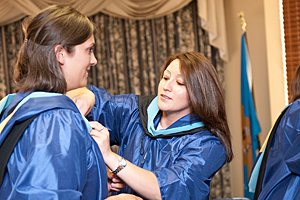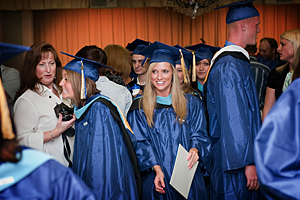 5:35 p.m., May 29, 2010----It was an evening for celebration as several hundred graduates, parents and friends gathered for the University of Delaware's annual Southern Delaware Convocation ceremony, held Wednesday, May 26, in the Crystal Ballroom of the Milford Senior Center.
"This is quite a night and quite an accomplishment," UD President Patrick Harker told the graduates. "You hold a degree from the University of Delaware. You're a Blue Hen, and once you are a Blue Hen, you're always a Blue Hen."
He then invoked a fellow Blue Hen, Vice President Joe Biden, who said during a visit to his alma mater that UD "just keeps getting better and better and better."
That is true, Harker said, because of graduates such as those attending the Southern Delaware Convocation. "Our reputation is rising rapidly; our prominence is growing every day. Our name is being mentioned alongside some of the very best universities in the world," he said, adding that the graduates are "the critical cog" because classrooms and laboratories mean little "unless we fill them with talent."
Harker cited the accomplishments of two graduates, Beth Redden and Melissa Aldrich.
Redden received a promotion in 2001 at Schering-Plough with the proviso that she earn her four-year degree, and so began a nine-year journey during which she balanced work by day and coursework by night.
On top of that, she had to care for ailing family members and then herself developed an extremely rare condition that required hospitalization.
Nonetheless, she persevered and on Wednesday received her bachelor's degree in general agriculture with distinction, graduating magna cum laude with a 3.85 grade point average. And she is considering entering UD's graduate program.
Aldrich, who earned an Associate in Arts degree, enrolled in the UD program in her 40s after joining some friends for Coast Day on the Hugh R. Sharp Campus in Lewes.
A resident of New England at the time, she fell in love with Delaware and "decided to make the First State her home and the coast her career."
Like Redden, she, too, battled illness en route to her degree - and also overcame a fear of math, calculators and computers while taking a position as a research assistant at the Lewes campus.
She now plans to enroll on the Newark campus as a geology major.
Harker closed his remarks by telling the graduates he hopes they will "seek out the challenge that comes after this one, that you work hard for it, and that your hard-won achievement spurs you on to the next challenge and the next success.
"I hope your cycle of excellence perpetuates and that trend line just keeps rising."
UD Provost Tom Apple also addressed the graduates, who included associate in arts recipients and graduates of the College of Agriculture and Natural Resources, represented by Dean Robin Morgan; the College of Arts and Sciences, represented by Dean George Watson; and the College of Education and Public Policy, represented by Deputy Dean Nancy Brickhouse.
Photos by James B. Hopkins