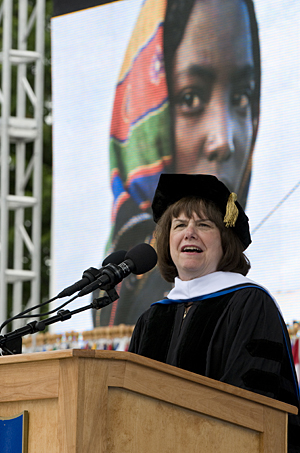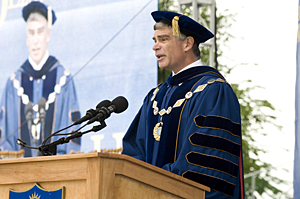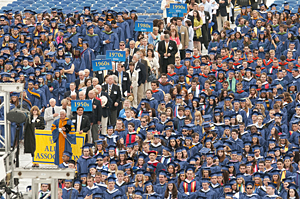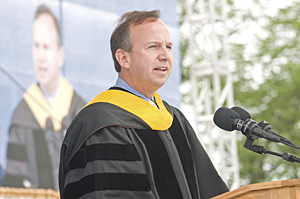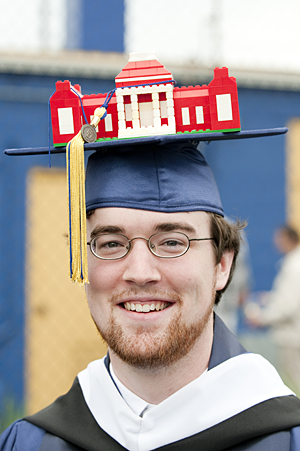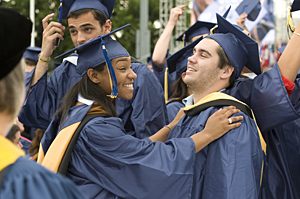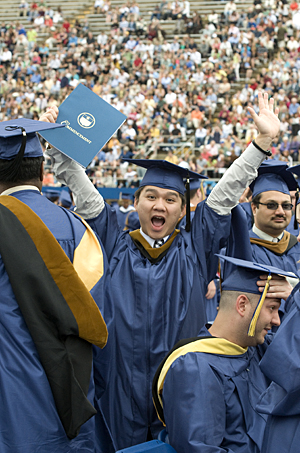 Video of Commencement is available here.
A slide show and an interactive program are available here.
5:29 p.m., May 29, 2010----The rain stayed away while an audience of more than 22,100 came to Delaware Stadium to celebrate the achievements of the Class of 2010 during the 161st Commencement of the University of Delaware.
Commencement guest speaker Catherine Bertini, a Syracuse University professor who has played a major role in the fight against world hunger, congratulated the University's newest alumni and urged them to use their education at UD as a springboard to solving the many complex issues facing the nation and the world.
Bertini, who was the driving force behind reform of the United Nations World Food Programme, used the example of an Ethiopian woman recruited by CARE, a humanitarian organization fighting global poverty, who has the opportunity to use her education to advance the position of women in the home, workplace and the political process.
"CARE argues that this woman is powerful because she has an education, she can earn an income and raise her family out of poverty," Bertini said. "Because she is educated, she has fewer children -- half as many as her uneducated sister -- and the children she bears are healthier and educated, as well."

Bertini said that the idea "I am powerful" led her to manage a series of organizations that send food to schools and to support advocacy groups that work to influence governments around the world to adopt more enlightened polices on land ownership, inheritance laws and access to credit for women.
The creation of scholarships to allow such women to go to secondary schools also is a key component of this empowerment, Bertini said.
"Because I help support simple changes that allow this woman and millions of young women like her to control their own destiny means not only that she is powerful, but I am powerful," Bertini said. "I am powerful when I do something to create a program that serves people. I am powerful when I influence governments or others to do something constructive for the poor."
The road to helping others began, Bertini said, when she told herself at age 17 that she would make a difference in the world, and that the power of her own convictions could be turned into a force for positive change.
"I did not know what that would be, or where I would work. It could have been in my neighborhood, my county, my state or my country," Bertini said. "I only knew that I would not stop until I made some kind of difference somewhere."
Bertini told the Class of 2010 that she used her bachelor's degree in political science from the State University of new York at Albany and her involvement in politics and the private sector to join the federal government. Her positions in the federal government included service in the U.S. Department of Agriculture and the U.S. Department of Health and Human Services.
"It was there that I began what has become a career-long effort to empower women and to help dramatically improve the lives of poor women and their families," Bertini said. "Then, I had the honor of joining the United Nations World Food Programme, where we essentially fed all the school children in North Korea for five years, opened bakeries for widows in Taliban-controlled Afghanistan, women who could not leave their homes. We also delivered food and water to people in Africa who were at risk of starvation due to serious droughts."
Bertini remarked that her most rewarding role may be in teaching graduate students to help prepare people to change the world in developing countries by working their way out of poverty due to the increased production of their own crops.
"Now, if a girl from a small town in upstate New York can do that, you can do that," Bertini said. "There is absolutely no question that you can do that and more. You are powerful."
Bertini challenged members of the Class of 2010 to take the first class degree they earned at the University of Delaware and use that freedom to choose what to do in a world full of opportunities and a world full of needs.
"You may choose to do as your illustrious fellow alumnus Vice President Joe Biden has done. You can create hospitals in Haiti, and schools in Africa," Bertini said. "The question of the day is, that no matter what your career choice, that you commence today."
While the opportunities may be limitless, graduates also have the responsibility to use their hard-earned education to address issues such as AIDS, world poverty and human rights, Bertini said.
"Edmund Burke, the 18th century British philosopher, once said, 'All that is necessary for the forces of evil to win in the world is for enough good people to do nothing,'" Bertini said. "Your degree from the University of Delaware has prepared you to think, to learn, to achieve, to inspire. It has infused you with the power to do good. You can change the world. We can't wait to see how well you do it. You are powerful."
Dare to blaze a trail
In his remarks earlier in the Commencement program, University President Patrick Harker welcomed the graduates and their families and friends and members of the UD community. He also noted that both the newest Blue Hens and the University of Delaware stand at the cusp of greatness in terms of challenges and opportunities.
"When I came to UD, I was definitely a freshman. Everyone is when starting something new. I was feeling my way around, trying to figure out exactly what the University of Delaware is, what we cherish, what we stand for and what we'll stake our reputation on and proclaim to the world," Harker said. "But, I didn't figure any of that out. All of us did -- all of us right here in this stadium. You told me what the University of Delaware is."
Using the achievements of individual students as models, Harker said UD is:
A talent magnet, where "talent attracts talent, and quality just keeps spiraling";
Idea leadership - "We're inventors and innovators and problem solvers";
Smart money - "UD has one of the country's best returns on tuition";
Discovery learning - "Life doesn't happen in a classroom, though I certainly hope some learning did"; and
Citizen University - "None of this matters if we're not sending our intellectual capital on making a significant difference in this world and solving the biggest problems that plague us."
"The University of Delaware is all of these things because you are all of these things," Harker said. A university is its people. UD is a living University, breathing and beating through you. It's all of you who live these principles. If you didn't, they wouldn't mean a thing."
Harker also noted that the University and the world is at an inflection point, which he said is described by Wikipedia as follows: "Imagine you are driving your car along a winding road, and you're turning your steering wheel from right to left and left to right. Well, inflection is the point at which the wheel is momentarily 'straight' mid-curve.
"You've got your degree in hand -- theoretically, anyway, and you could go either way," Harker said. "You'll have to turn the wheel soon and you should probably know which way that'll be."
Harker also noted that while the world is at an inflection point, as well, with economic upheaval, a divided political leadership, ecological catastrophes and daily ideological threats to people, "there coexists a great opportunity for the graduates of today to affect the world of tomorrow in a positive way."
In recalling the 2004 Commencement talk given by Bono at the University of Pennsylvania, Harker noted that the member of the rock band U2 said there is a lot of conventional wisdom out in the world that is worth betraying.
"So, I guess what I'm doing is daring you to betray it. I'm daring your to blaze your own trail, to rethink and reinvent, to risk and to conquer. I dare you," Harker said. "In the spirit of A Christmas Story I'll issue what Ralphie called the coup de grace of dares: I triple dog dare you. You're at an inflection point. Turn the wheel and see where you go."
Reflections from the Class of 2010
As members of the Class of 2010 prepared to enter Delaware Stadium, several graduates shared their UD memories and plans for the future.
Kate Shannahan, a marketing major from Trappe, Md., said, "It is really exciting, but bittersweet also. It's sad to be leaving UD, but exciting to be starting the next chapter in my life. I really enjoyed my Delta Sigma Pi business fraternity and being a marketing major and meeting so many interesting people." Shannahan, who will be working in Washington D.C., hopes to someday work in software sales.
Christine Komlo, a sociology major from Gladwyne, Pa., said that besides being a bit nervous and a little sad, she has loved her time at UD and enjoyed meeting so many different kinds of friends. "Right now, I'm searching for a job. I really do want to get into the workforce."
Kristie Cotrufello, a marketing major from West Chester, Pa., said, "I can't believe four years have passed already and that graduation is here. I will miss the campus and my friends."
Courtney Klinga, an accounting major from Fairfield, Conn., said she that will miss the whole campus environment, including classes and hanging out with friends. "I have really enjoyed my time here. The University has become a home to me."
Shane Smith, a mechanical engineering major from East Berlin, Pa., and an offensive lineman on the UD Fightin' Blue Hens football team, said that it was tough playing football and balancing academics, but that "when you don't have the time, you have to make the time. I really enjoyed the campus and the community."
Steven Fulfree, a management major in the Lerner College of Business and Economics from Long Island, and also an offensive lineman for the Hens, said, "The main goal for both of us was to graduate. Now, we have done that and we both have jobs. While there is a little more pressure out there, the University of Delaware really prepares you to be a professional in the workplace."
Article by Jerry Rhodes
Photos by Kathy F. Atkinson, Ambre Alexander, Doug Baker, Evan Krape and Duane Perry