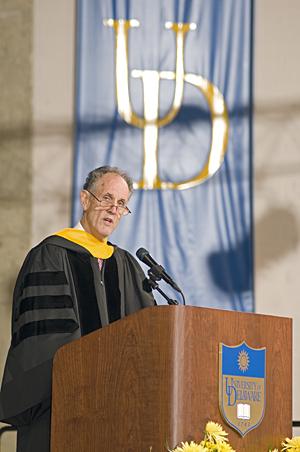 5:34 p.m., May 29, 2010----U.S. Sen. Ted Kaufman (D-Del.) addressed University of Delaware College of Engineering graduates during the college's convocation on Saturday afternoon, May 29, at the Bob Carpenter Center, discussing the need for people who fully understand science, technology, engineering and mathematics.
Michael Chajes, dean of the College of Engineering, introduced Kaufman, who, he noted, is the only engineer in the U.S. Senate.
"I truly believe that the key to the future of our country, and the world, rests on our ability to use science, technology, engineering and math -- or STEM -- to solve the major problems we face," Kaufman told the students. "Everything I know about young people today is that you want to make a difference with your lives. I am honored to be selected to tell you that, with an engineering degree, you can."
Kaufman said he got into engineering because it "was considered the most intellectually challenging field for our nation's best and brightest" when he entered college.
He also joked that he thought an engineering degree "was the fastest way to earn enough money to buy a sports car."
Focusing on the growing economic challenges faced by the nation, Kaufman said, "America's engineers have a central role to play in developing the innovative technologies that will help our economy recover and promote real job growth. Scientists and engineers have the most dynamic and creative minds, though I admit that I'm biased. America needs creative ideas and energy, and if you have them, you will get your shot. This isn't a time to sit back. Our country needs you now more than ever."
Kaufman said the University of Delaware is "leading the way in solving many of these grand engineering challenges."
He said UD conducts one of the premier solar research programs in the country, while the Delaware Biotechnology Institute is helping to establish the state as a center of excellence in biotechnology and life sciences.
In addition, fuel cell researchers at UD are "designing the future of transportation," and the wind turbine project on the Hugh R. Sharp Campus in Lewes will soon be using the wind to provide energy.
Kaufman cited UD's carbon footprint reduction project as one of the largest university-run efforts in the country.
"The great thing for the University of Delaware is that it is located in a state that is also leading the way in these fields," the senator said.
Kaufman also spoke about the positive impact working in the public sector has had on his life and urged the graduates to consider working in the field. "From my experience, and as a fellow engineer, the most important piece of advice I can give you is to consider doing what I did over 30 years ago and apply what you learned in engineering school to a career in public service," he said. "Throughout my life, I have worked in both the private and public sectors. The one thing I can say about the years I spent in public service is that I never went home at night wondering if I was doing something meaningful with my life. In this time of great challenges, we need talented men and women like you to answer the call to serve."
Article by Adam Thomas
Photo by Duane Perry