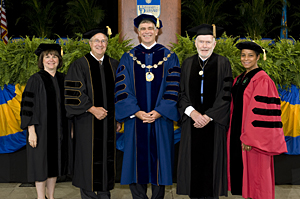 5:22 p.m., May 29, 2010----Four distinguished individuals were recognized with honorary degrees at the University of Delaware's 161st Commencement ceremonies, held May 29 at Delaware Stadium.
"The Honorary Degree is the highest honor bestowed by the University of Delaware and is reserved as a recognition of true distinction," Gil Sparks, chairman of the University's Board of Trustees, said.
Honorees and their degrees are
--Catherine Bertini, a leader in the fight against world hunger, doctor of humane letters;
--Robert W. Gore, UD alumnus, benefactor and Hall of Fame inventor, doctor of science;
--Risa Lavizzo-Mourey, president and CEO of the Robert Wood Johnson Foundation, doctor of science; and
--T.W. Fraser Russell, UD alumnus, administrator and the Allan P. Colburn Professor Emeritus of Chemical Engineering, doctor of science.
Photo by Kathy F. Atkinson