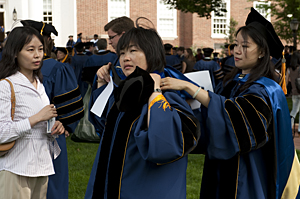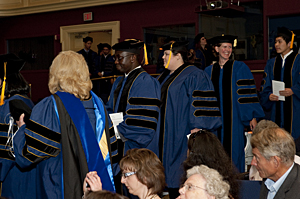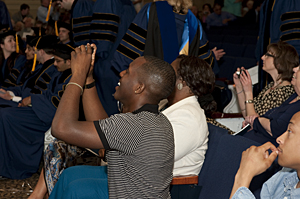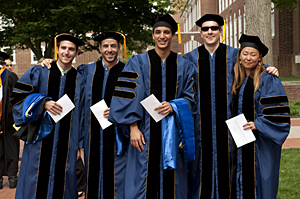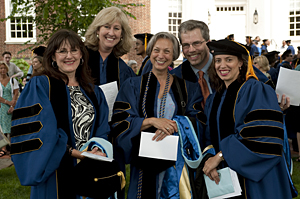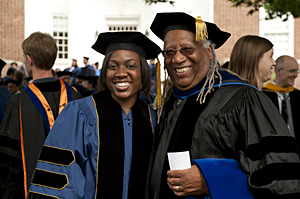 5:40 p.m., May 29, 2010----Family, friends, members of the campus community and doctoral degree candidates from the University of Delaware's seven colleges gathered in Mitchell Hall on Friday, May 28, for the 2010 Doctoral Hooding Convocation.
The ceremony opened with a colorful, bagpipe-led procession on The Green that made its way into Mitchell Hall. Applause scattered throughout the hall as friends and family members spotted their specific doctoral candidates as they walked into the auditorium.
University President Patrick Harker opened the ceremony by welcoming all in attendance and addressing the doctoral candidates. "I remember my own hooding ceremony well, and all the emotions that came with it -- pride, relief, exhaustion, excitement, and did I mention exhaustion?"
Harker said the doctoral candidates had "earned all these feelings and more. What you've accomplished takes equal parts passion and perseverance. You're obviously fortunate to have both in large quantities. But the University of Delaware is no less fortunate to have had you here because this exceptional accomplishment doesn't merely enrich you, it enriches and elevates this institution, which is committed to excellence in research and graduate education."
With their fresh degrees, Harker asked the candidates "to pursue truth and to prioritize compassion, to improve the lives of others and the world in which we live, and to expand the boundaries of human understanding and to contribute doggedly to a body of knowledge that will help perfect us as a people."
Debra Hess Norris, vice provost for graduate and professional education, spoke next. "Today we happily celebrate your success," she said, "and I can say that while I didn't have a chance to read all your dissertations, I have read every abstract and they are stunning in their breadth and depth and their potential impact on current and future societies."
Norris then presented the Outstanding Doctoral Graduate Student Advising and Mentoring Award to Antony N. Beris, the Arthur B. Metzner Professor of Chemical Engineering.
Norris quoted from a student who nominated the professor for the award, saying, "Beris provides the right kind of research environment. Under his advisement, student ideas are never discouraged. He ensured that I never lost sight of the basics. He instilled a habit of exercise in the highest form of ethics while presenting data."
Norris said Beris had described his students as his "intellectual children," and the students describe him as "a kind human being concerned about their welfare" and "always ready to help somehow."
Beris thanked the graduate students for nominating him, also thanking the Department of Chemical Engineering and its chairperson, Norman Wagner, the College of Engineering and its dean, Michael Chajes, and benefactor Robert W. Gore. "It is an honor to be selected for this award," he said. "I would like to thank all those students who nominated me and said so many kind words about me."
Provost Tom Apple talked about the importance and significance of the doctoral hood and the doctoral hooding ceremony. "The hood is the most distinctive element of academic garb," he said. "The traditional rules are that the doctoral hood should not be worn until the conferring of the degrees. However, when there's a designated hooding ceremony such as this one, individuals may then wear the hood during the procession and Commencement. So your participation here allows you to wear the hood at Commencement tomorrow."
After the hooding ceremony and the distribution of diplomas, the convocation address was given by T.W. Fraser Russell, the Allan P. Colburn Professor Emeritus of Chemical Engineering and 2010 doctor of science honorary degree recipient.
Russell read from the Dr. Seuss book Oh, the Places You'll Go! and spoke about the importance of being able to adapt one's life plan to changes that may occur.
Speaking from personal experience, Russell said, "When I was a junior in high school, I had formed a plan to study pharmacy at the University of Alberta. I discussed this with one of my favorite uncles and he said, 'Pharmacy is a retail business and you'll have to deal on a day to day basis with the general public and I'm not sure this is your strong suit. Why don't you try to get a job at a retail store and see if you like it?'"
Following that advice, Russell said that he got a job behind a meat counter at a local store and soon realized that was not for him.
"What words of wisdom can I impart which may help you now that you've successfully completed the academic portion of your approach to life? Each of you has some plan for your future it may be well thought out, only vaguely formulated, maybe exists only in the minds of your parents," he said. "I'm in favor of a plan, but even more in favor of developing modifications as you and the world you live in change.
"You can develop a plan to meet your goals but be prepared to modify both your plan and your goals as new opportunities are impressed upon you."
Article by Adam Thomas
Photos by Kathy F. Atkinson