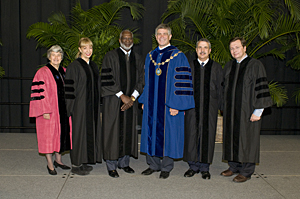 4:31 p.m., May 30, 2009----Five honorary degrees were bestowed by Howard E. Cosgrove, chairman of the University of Delaware's Board of Trustees, at UD's 160th Commencement, held May 30 at Delaware Stadium.
The distinction, the highest honor the University bestows on individuals whose contributions to the public good warrant exceptional recognition, was presented this year to:
Thomas L. Friedman, author and Pulitzer Prize-winning columnist for The New York Times;
Baroness Susan Greenfield, Oxford Professor of Physiology and recognized expert on the physiology of the human brain;
Carol E. Hoffecker, distinguished scholar, renowned historian of Delaware and Richards Professor Emerita of History at UD;
Charles R.E. Lewis, award-winning founder of the Center for Public Integrity in Washington, D.C.; and
David L. Sacher, 16th surgeon general of the United States.
"The honorary degree is the highest honor bestowed by the University of Delaware and is reserved as a recognition of true distinction," Cosgrove said. "Today it is my pleasure to bestow this honor on five outstanding individuals who make up the University's Honorary Degree Class of 2009."