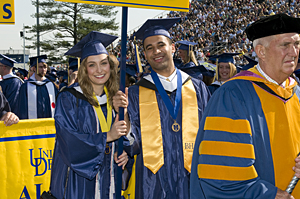 4:46 p.m., May 30, 2009----The estimated number of degrees conferred by the University of Delaware since May 2008 totals 5,378. That number includes 328 doctoral degrees, 850 master's degrees, 3,970 bachelor's degrees, and 230 associate's degrees.
(Note: Final figures are determined when spring grades are fully recorded and the deans review grades for all candidates.)
Fun facts
Opening the University's 160th Commencement ceremony was the procession of alumni delegates, which included representatives from the Classes of the 1940s through 2008, representing more than 140,000 alumni living in more than 80 countries throughout the world.
This year's procession included representatives of the Class of 1959, which will hold its 50th reunion during Forum & Reunion Weekend, June 5-7 on the campus.
Leading the alumni procession were this year's recipients of the UD Alumni Association's Warner and Taylor awards, which recognize the outstanding senior woman and man. The 2009 recipients are graduating seniors Casey Patriarco, an English education major, with minors in history and philosophy, from Allentown, Pa., and Teagan Gregory, a political science and international relations major, with minors in East Asian studies, philosophy and religious studies, from Newark, Del.
Twelve of the graduating students were celebrating their birthdays on Saturday. The graduates ranged in age from 20 to 76, with eight graduates age 60 or older.
This year's oldest graduating senior was Garth Dawson, 76, of Wilmington, Del., who earned a master's degree in liberal studies.
The University of Delaware is celebrating its 266th year of existence. The first class of 1743 included three signers of the Declaration of Independence among its 10 students.