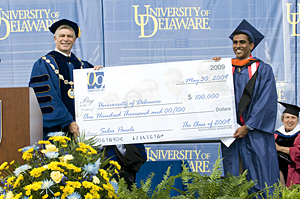 4:44 p.m., May 30, 2009----The University of Delaware Class of 2009 has raised a record $100,000 as its class gift, which will fund solar panels to assist UD in its efforts to go green by reducing carbon emissions on campus.
The gift was announced by Nikhil Paul, chairperson for the senior class gift committee, during the University's 160th Commencement ceremony held Saturday, May 30, at Delaware Stadium.
"We thank all the graduates, parents and friends who supported this effort, and who helped us to not only exceed, but to double our goal," Paul said. "As this day marks the beginning of a new chapter in our lives, this gift represents our commitment to advancing the success of our alma mater, both today and for years to come."
The senior class gift was determined through online balloting in February, with more than 1,340 students participating.
"The senior class of 2009 will use this eco-friendly contribution to act as pioneers in the University's efforts toward sustainability," said Heather Barron, senior associate director of annual giving, in announcing the class vote. "They will be a pillar for positive, ecological change which further exemplifies UD as an environmental leader and role model."
Barron said the gift is the "perfect continuation" of the Class of 2008 carbon footprint project, as the solar panels will implement plans derived from the carbon footprint inventory.
"This gift is influential to the University, as it illustrates the idea that giving back to UD is an on-going commitment which brings the University community together," Barron said. "Solar panels are the perfect example. The Class of 2008 used their gift to identify the issues. The Class of 2009 has now committed to being a part of the solution."