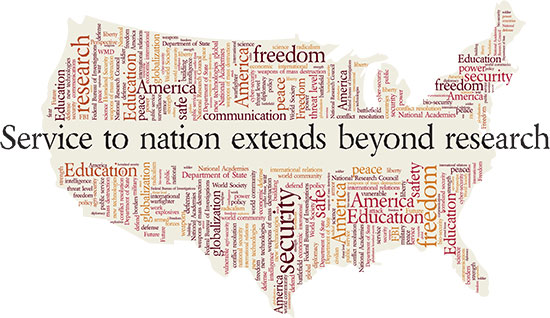 It's not just research and well-prepared graduates that University of Delaware faculty help contribute to national security issues.
Chemistry professor Murray Johnston, for example, recently served on two National Research Council committees — one to evaluate the Department of Defense's testing methods to rapidly identify airborne microbes that might be involved in a terrorist attack, and the other to assess the Federal Bureau of Investigation (FBI) response to the anthrax letter attack in 2001.
In examining the scientific approaches used and conclusions reached by the FBI during its investigation of the 2001 Bacillus anthracis mailings, Johnston, an expert on aerosols, and his fellow committee members determined that it was not possible to reach a definitive conclusion about the origins of the anthrax in letters mailed to New York City and Washington, D.C., based solely on the available scientific evidence. The committee's evaluation was released Feb. 15, 2011.
Each National Research Council panel has a different charge, Johnston explains, but typically, the panels involve experts from a variety of disciplines who contribute to the scientific analysis of data and information that reside in reports and technical documents.
"In the end, the entire committee discusses the matter, makes a decision and reports information. It is very much a 'we' effort, and not from a single individual's expertise or perspective. Usually, a public report is issued by the National Academies at the conclusion," Johnston says.
Stanley Sandler, Henry Belin du Pont Chair of Chemical Engineering, served for more than five years on three National Research Council committees dealing with the destruction of armed chemical weapons, including bombs, rockets, mortars, land mines, and projectiles loaded with nerve or mustard agents. He now serves in a consulting capacity to projects at Hanford, Savannah River and Idaho Falls dealing with the safe processing and eventual storage of highly radioactive wastes remaining from the production of nuclear weapons.
"In other words, I am a WMD [weapons of mass destruction] person, but a good one in the sense of trying to get rid of them," Sandler notes.
Other faculty are leading programs to engage scholars and policy makers from other countries in the pursuit of greater world harmony.
Stuart Kaufman, professor of political science and international relations, is the Fulbright-Diplomatic Academy visiting professor of international relations at the University of Vienna during spring 2011. Drawing on his experience on the U.S. National Security Council staff, Kaufman is teaching a graduate seminar on American foreign policy and a course on ethnic conflict, as well as presenting public lectures in Europe on options for resolving ethnic conflicts.
Also with the support of the U.S. Department of State, Mark J. Miller, Emma Smith Morris Professor of Political Science and International Relations, has hosted the six-week Institute on National Security Policy Making in a Post-9/11 World several times since 2003, with the latest program concluding in February 2011.
The program brings together university professors, military officers, government officials and diplomats from around the world, forming a community of scholars with lasting ties. The institute's goal is mutual understanding, according to Kevin Orchison, program officer for the Study of the U.S. Branch of the U.S. Department of State's Bureau of Educational and Cultural Affairs.
"We're very happy with the program and the faculty here at the University of Delaware," says Orchison. "There's great institutional support, and the faculty are very creative in exploring the topic through a very nuanced presentation so that when the participants return home, they have a very illuminating perspective on, not just the U.S., but Nepal, India, Kenya, and so on."