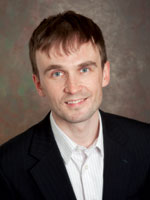 Anjem Choudary, British citizen and former leader of Islam4UK, a now-banned radical group in the United Kingdom, doesn't have much support among British Muslims. But you might think otherwise based on the extensive media coverage the extremist Choudary receives.
"Choudary is estimated to have no more than 200 followers in the United Kingdom, which has over 2 million Muslims," says Juris Pupcenoks, a doctoral candidate in political science and international relations at the University of Delaware. "Yet the media talk about these people for hours and create a greater sense of threat."
Media attention is just one contributing factor to the success of radical groups, according to Pupcenoks, who is working to find out why political violence, including extremism, occurs in some communities but not in others.
Through his research with Muslim communities in Detroit and London, Pupcenoks has identified three measures to help prevent radicalism:
Try to minimize media coverage of the 'crazies' – some extremists wouldn't exist without it," he says.

Create a strong partnership and open dialogue between Muslim community groups and law enforcement through successful models like the BRIDGES program in Detroit.

Support the work of Muslim community groups that educate youth properly about Islam because Muslim radicals and would-be terrorists tend to be misguided about the basic principles of Islam.
In Detroit, top religious and secular leaders are involved in the Building Respect in Diverse Groups to Enhance Sensitivity (BRIDGES) program, which was instituted after the 9/11 terrorist attacks on the United States. Community leaders and police departments meet regularly to discuss concerns and to diffuse tensions. The FBI is a partner as well, Pupcenoks says, and is kept informed about any Arab and Muslim discrimination issues.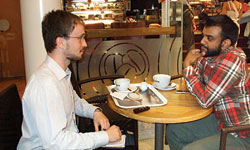 "There is no appeal for radical groups among the Muslim community in Detroit," Pupcenoks says. "Instead, they care about things like jobs and women's rights."
There are an estimated 200,000 Muslims in Detroit, but they are far from a homogeneous community, Pupcenoks explains.
"Even though there's talk of 'Muslim this, or Muslim that,' it's not that way at all. Yemeni Muslims go to Yemeni mosques, and Lebanese Muslims go to Lebanese mosques, and so on. Communities are very distinct, bound by ethnic ties."
Youths who don't really know the Muslim religion may be vulnerable to the messages of charismatic activists who have connections with violent groups abroad, particularly Pakistan.
"If the youth don't know what Islam is about, that's of concern," Pupcenoks says. "There are verses in the Koran that are violent, just as there are verses in the Bible that are violent, such as 'an eye for an eye,' when taken out of context. Therefore, Detroit's religious community and certain youth groups work to educate about different beliefs of Islam."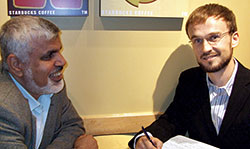 Such religious teaching groups should not be government sponsored because that can erode community trust, Pupcenoks says.
Pupcenoks credits his advisers, Mark J. Miller, Stuart Kaufman and Muqtedar Khan — all on the faculty of the UD Department of Political Science and International Relations — for their guidance throughout his research. After he receives his doctorate, he plans to teach and pursue further studies into the causes of violent radicalization in the U.S. and Europe.
As part of his doctoral research, Juris Pupcenoks meets with Shamiul Joarder, of the Muslim Safety Forum, which was formed in the United Kingdom following 9/11 and is a key advisory body to the British police service.
In London, UD's Juris Pupcenoks interviews Sayeed Ferjani of the Muslim Association of Britain about Muslim political activism.