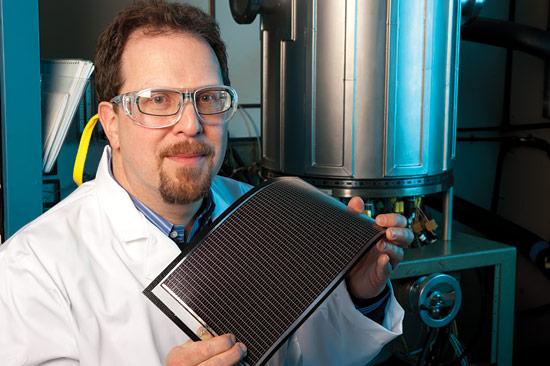 When an Army unit deploys in Afghanistan, the first supply planes carry cargo that is critical to powering communications operations in the field: batteries.
Some soldiers will carry up to 35 pounds of batteries for a three-day mission, according to the U.S. Army Research Laboratory. That's in addition to body armor, weapons, ammunition, rations and other equipment.
The Institute of Energy Conversion (IEC) at the University of Delaware is working with industry to help lighten the soldier's load by replacing those batteries with lightweight, yet powerful solar cells.
The Defense Advanced Research Projects Agency (DARPA), the independent research branch of the U.S. Department of Defense, recently funded four projects nationally through its Low-Cost Lightweight Portable Photovoltaics (PoP) program. UD's IEC is the sole academic institution to be involved in two of the efforts — one led by Ascent Solar Technologies Inc., based in Thornton, Colo.; the other by SiOnyx Inc. in Beverly, Mass.
"The U.S. Army is looking for much higher-efficiency solar cells that are very lightweight, flexible and durable — able to withstand bullet holes and other extreme battlefield conditions," says Bill Shafarman, a scientist at IEC and associate professor in the Department of Materials Science and Engineering at UD.
The UD institute's role in the projects is to make the technology more efficient — to increase the percentage of energy in sunlight converted to electricity in thin-film solar cells — and to explore new manufacturing approaches.
In their project with Ascent Solar Technologies, Shafarman and IEC research associate Greg Hanket are working to boost the conversion efficiency in lightweight copper-indium-gallium-selenide (CIGS) solar cells from 13 percent to 20 percent by replacing some of the copper in the semiconductor with silver. Their previous work has shown that this substitution can help make a higher quality material for the solar cells.
"This replacement doesn't need to be expensive," Shafarman notes, pointing out that the semiconductor layer has a thickness of only 1 to 2 microns. A typical human hair, in comparison, is 50 microns thick.
In a related project with SiOnyx, IEC research scientist Steve Hegedus and his team are examining substrates other than the traditional plastic for the solar cells.
"The significance of the Low-Cost Lightweight Portable Photovoltaics program is that it will take thin-film, flexible copper-indium-selenide based solar cells to the next level of performance in order to meet DARPA's requirements and will accelerate the implementation of thin-film flexible solar cells to commercial and residential markets," says IEC Director Robert Birkmire.
IEC was founded in 1972 and designated in 1992 as a University Center of Excellence for Photovoltaic Research and Education by the U.S. Department of Energy and the National RenewableEnergy Laboratory. The center collaborates with government agencies, industries and other universities around the world.
IEC pioneered the development of flexible solar cells in the early 1980s and was the first to show continuous deposition of thin-film solar cells. The UD institute's discoveries today are in use by a broad range of solar cell manufacturers.