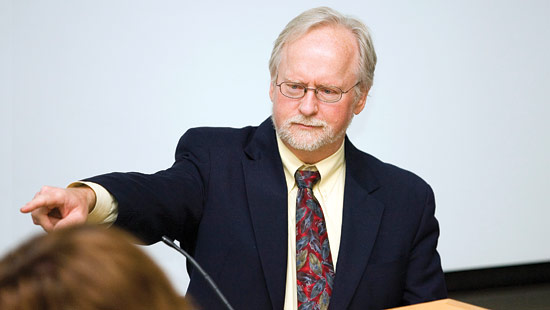 John W. (Jack) Gillespie Jr., director of UD's Center for Composite Materials, places a premium on putting together the right people and the right materials to do the job — whether it's creating a new road surface for a heavily trafficked bridge in Delaware or custom prosthetics for injured soldiers.
Director of CCM since 1996, Gillespie maintains an internationally recognized facility and an open-lab philosophy to encourage participation in research and educational activities. CCM currently has more than 120 projects under way, involving UD faculty, staff and students, as well as industry and agency collaborators.

What got you hooked on research in this field?

It was a combination of experiences — undergraduate research in experimental mechanics, a senior design project on flywheel energy storage, and graduate studies on the design of aircraft joints and damage tolerance funded by the Air Force and NASA.

What would our daily lives be like without composites?

Composites are everywhere: aircraft — the Boeing 787 is over 50 percent composites — high-performance cars like my Corvette Z06, wind turbines for power generation, lightweight bridge systems, electronic circuit boards and soldier protection ranging from body armor to vehicle protection against IED threats.

What are some of the most novel composites that UD has developed and that are in use by the public today?

Two of the more novel developments here have come out of research by chemical engineering faculty. Richard Wool has led the development of all-natural composites made from renewable sources such as chicken feathers and soybean oil (see p. 40), while Norm Wagner has developed "liquid armor," a technology based on shear thickening fluids, for penetration-resistant protective clothing (see p. 25). A collaboration with two civil engineering faculty, Michael Chajes and Dennis Mertz, resulted in the design, manufacture and installation of the first all-composite bridge deck on a state road, as well as lightweight bridging for rapid deployment by the military. We have also contributed to all-composite military vehicles, combatant watercraft, novel orthotics for orthopaedic rehabilitation and an ultra-lightweight medical mission module for a military ambulance.

How effective are composites for safety/security applications, and why?

If you want to maximize performance and/or protection at minimum weight, composites are key. They provide the highest specific strength and stiffness of all materials and can absorb significant amounts of energy during impact. All DoD [Department of Defense] systems — whether they're light, medium or heavy tactical or combat vehicles, helicopters, unmanned ground and air vehicles, or boat and ship structures —need to be as lightweight as possible. Composites enable payload to be increased and mission range to be extended. They also allow tailoring of a single material solution at minimum weight with a variety of properties.

What role does CCM play as an incubator of new technologies and companies and as a collaborator with local startup companies?

CCM has a long history of partnerships with industry, dating back to 1978 with the founding of our consortium, "Application of Composite Materials to Industrial Products." While the center originally served industry as a source of employees through our graduates, that role has since been augmented by a strong commitment to technology transfer with small, medium and large companies, ranging from material suppliers to end users. Along the way, we have incubated new businesses by providing an entrepreneurial environment to our students as well as researchexpertise and facilities to our industrial partners. We have been particularly successful in teaming with small business to win SBIR/STTR grants to transfer technology, accelerate commercialization and create new jobs in the state. And our collaborations with the Army Research Laboratory will grow as the Science and Technology Campus on the former Chrysler site develops, with spinoff companies developing from new multifunctional composite technology.

What's the future of composite materials — how will they continue to change our world?

The need for lightweight materials will continue, just as added multi-functionality in a single material system will change the way new products are designed and raise performance to new levels. The ability to design a stiff, strong composite material — with self-sensing and self-healing properties, embedded electronic functionality, energy storage/generation and tailored electromagnetic properties — will make composites the enabling material for future generations. DoD advances in national security will continue to have commercial spinoffs. Biomedical applications — for example, prosthetics to rehabilitate soldiers with traumatic lower-limb injuries — will become increasingly important. And nanotechnology opens the door for applications that we can't even envision yet.