University of Delaware scholars have won recognition at home and abroad during the past year. UD's distinguished faculty includes Guggenheim Fellows, Fulbright Fellows, and members of the National Academy of Sciences, National Academy of Engineering, and Nobel Prize-winning Intergovernmental Panel on Climate Change, to name only a few. Here is a selection of honors from the past year.
Oliver receives presidential award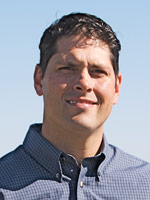 Matt Oliver is providing a new view of the ocean. He's analyzing biological and physical signatures that appear in satellite data streams to identify where marine organisms live, at what abundance and under which environmental conditions.
The assistant professor of oceanography in UD's College of Earth, Ocean, and Environment won the 2010 Presidential Early Career Award for Scientists and Engineers (PECASE). It is the highest honor bestowed by the U.S. government on young professionals early in their research careers. Winners are selected based on their pursuit of frontier research and a commitment to community service.
"Science and technology have long been at the core of America's economic strength and global leadership," said President Obama at the awards announcement this past November. "I am confident that these individuals, who have shown such tremendous promise so early in their careers, will go on to make breakthroughs and discoveries that will continue to move our nation forward in the years ahead."
Award winners receive up to a five-year research grant to further their study in support of critical government missions. Oliver's grant is from the National Aeronautics and Space Administration (NASA).
"Understanding the spatial and temporal distribution of ocean ecosystems with satellites has allowed us to make predictions about a wide variety of ocean processes, including the vertical structure of the ocean, the expansion of ocean deserts and the abundances of key commercial fisheries," Oliver said. "These results are directly applicable to marine resource management and marine spatial planning."
McLane chosen Delaware Professor of the Year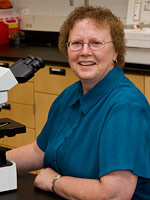 Mary Ann McLane believes that education is all about empowerment. The professor of medical technology in the College of Health Sciences at UD teaches by sharing her extensive experience, as well as her passion for the medical technology profession and for lifelong learning. She encourages and challenges the young adults in her classroom and mentors them in her research laboratory.
McLane's dedication recently was recognized by the Carnegie Foundation for the Advancement of Teaching, which selected her as the 2010 Delaware Professor of the Year. McLane was one of more than 300 nominees across the United States.
"I am thrilled for my department, our college, the University, our state and my profession to win this award," said McLane. "As president of the American Society for Clinical Laboratory Science in 2009–2010, I worked to 'put a face' on this profession as a critical component of modern health care. My role as a teacher is an important part of that mission — I want to make this discipline more visible and inspire students to follow careers in clinical laboratory science."
Many of the students who have worked in McLane's research lab have gone on to complete graduate programs in biochemistry, molecular biology, optometry, physician assistant and medicine.
Yet McLane's teaching impact has gone far beyond her own classroom and lab. She has published teaching materials used nationally and receives requests for her teaching expertise from around the world.
Doctoral student honored with national leadership award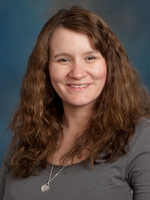 Cara Robinson, a doctoral student in UD's School of Public Policy and Administration, has won the K. Patricia Cross Future Leaders Award, an honor given by the Association of American Colleges and Universities (AAC&U) to graduate students who show "exemplary promise as future leaders of higher education."
AAC&U is the leading national association concerned with the quality, vitality and public standing of undergraduate liberal education. It was founded in 1915 and comprises more than 1,200 member institutions, including UD.
Robinson is one of eight students selected from a pool of more than 225 nominations. She and her fellow awardees "represent the finest in the new generation of faculty who will teach and lead higher education in the next decades," said AAC&U President Carol Geary Schneider.
As a doctoral student, Robinson has taught undergraduate and graduate courses, mentored incoming freshmen, conducted graduate research for UD's Center for Community Research and Service (CCRS), collaborated with local non-profits on community-based research projects and served as executive director of the Homeless Planning Council of Delaware, an independent non-profit organization.
"Cara is not satisfied by just posing questions and finding answers, but seeks to apply them to real-world issues and problems and encourages others to do the same," said Steven Peuquet, her adviser and CCRS director. "She has a rare blend of intelligence, vision, practicality, diplomacy and friendliness that combine to make her an outstanding young educator, researcher and leader."
Watters named Rhodes Scholar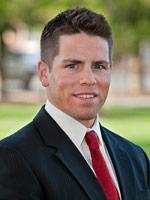 Matthew T. Watters, of Ramsey, N.J., a senior neuroscience major and political science minor at the University of Delaware, recently joined an elite class. He was named a 2010 Rhodes Scholar.
One of the most prestigious academic awards available to American college students and the oldest award for international study, the Rhodes Scholarship covers all expenses for two or three years of study at the University of Oxford in England.
Watters is UD's 12th Rhodes Scholar.
Watters volunteers as an emergency medical technician (EMT) in Haiti and has helped raise $50,000 to rebuild a hospital there destroyed by the earthquake. He also has worked with tribal leaders in Sudan, teaching hospital staff how to reduce mortality and helping to create infection control committees.
"The Rhodes Scholarship, which recognizes recipients' dedication to service alongside academic accomplishment, is an appropriate honor for Matt, whose work in Sudan and Haiti is a testament to his commitment to helping others — and, I think, a good prediction of how his future studies will profoundly benefit humanity," said UD President Patrick Harker. "As one of 32 students nationwide awarded this honor, Matt finds himself in exceptionally good company. I know we're all excited to see what he does next."
Watters will begin his studies at Oxford in October 2011 and plans to work toward a master of science degree in global health science. Following Oxford, he plans to attend medical school and pursue a career in health policy.