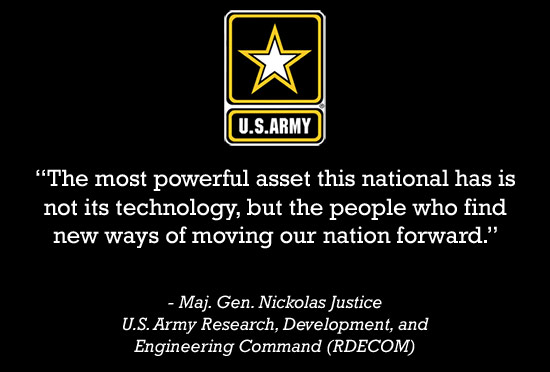 Since signing a Cooperative Research and Development Agreement (CRADA) in January 2010, the University of Delaware and the U.S. Army at Aberdeen Proving Ground (APG) have joined forces for research and development opportunities, as well as graduate education, professional development and employment or internship opportunities for the UD community.
David Weir, director of the UD Office of Economic Innovation and Partnerships, notes that workforce development is a high priority for the Army, and it is a natural fit to collaborate with UD, as the University is the closest Category I Research University to APG.
The College of Engineering, which already has a strong commitment to graduate education through teaching and research, is an active partner in developing educational programming to meet APG's growing professional development needs.
Last spring, the Department of Electrical and Computer Engineering (ECE) began supplementing on-campus and distance learning offerings with courses taught on-base to make it easier for APG employees to continue their education.
The first course — advanced engineering electromagnetics — attracted six students, including Janeen Winne, an APG engineer supporting the Army Evaluation Center in non-ballistic survivability.
"Despite recently completing a master's in systems engineering elsewhere, I feel that broadening my technical base is very important," says Winne.
"UD's comprehensive program offers classes I have not seen at other universities," Winne notes, "and the knowledge I've gained helps me ensure that systems that are reaching soldiers will survive the complex environments that they face."
Current UD-APG on-base offerings in antenna theory and design and in digital signal processing have seen a three-fold increase in enrollment, with nearly 20 APG employees registered for the 2011 spring semester.
"Local course offerings greatly ease my travel burden and reduce my time away from work," explains Joseph Deroba, an APG electrical engineer and UD alumnus currently pursuing a doctorate in electrical engineering at UD. "Taking courses with my peers, many of whom have similar experience levels and responsibilities, is also a benefit."
Deroba also says having the knowledge to accurately design and model the performance of systems before they are mass produced greatly decreases risks and overall costs to the government.
In addition, new degrees such as the recently added master of science in software engineering, designed at APG's request by faculty from ECE and the Department of Computer and Information Sciences, position students and professionals to meet future job challenges with advanced innovation and problem-solving skills.
"We look forward to offering additional courses and developing mutually beneficial partnerships with increasing numbers of APG employees as they transition completely from the Army's Ft. Monmouth, New Jersey, site," says Michael J. Chajes, dean of engineering.