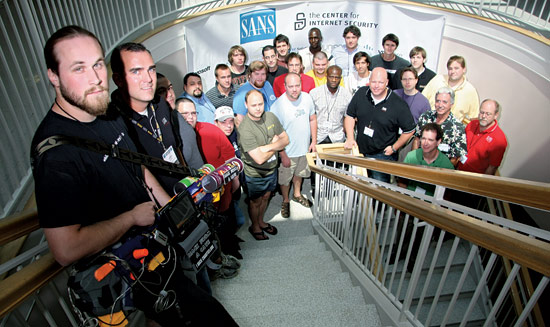 Cyber threats are increasing in complexity, volume and seriousness, as criminals and terrorists become more adept at accessing all kinds of private information from individuals, companies and nations, with little more than a computer.
Nine UD students and alumni recently graduated from a first-of-its-kind cyber-training camp held as part of an effort to shore up the nation's capability to protect itsinformation systems. Currently, there is a shortfall of individuals trained in this area.
"These security skills are critical to fighting cyber crime and to securing the systems we use daily, like email, social networking and banking," said Chase Cotton, associate director for cyber security at UD's Center for Information and Com-munications Sciences. "These same skills are also needed to help the government and military prepare to defend the country in this electronic battlefield."
The Delaware camp, one of only three in the nation, was organized by Wilmington University, UD, Delaware Technical and Community College, the SANS (SysAdmin, Audit, Network, Security) Institute and the Delaware Department of Technology and Information.