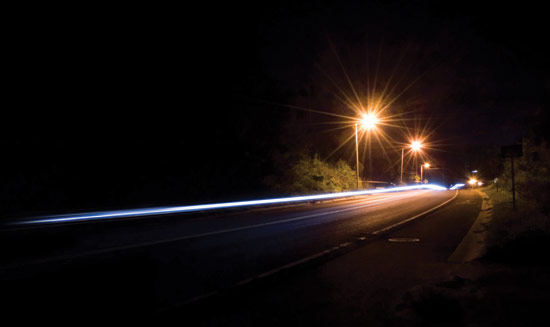 Long before sedans and SUVs populated the highways, walkers and bicyclists shared the road with automobiles. The cities — and city streets — were designed to be walkable and safe for all users.
Today, roads are largely designed for cars. Moreover, the streetlights that help drivers see the road in front of them and the cars and signs around them might not sufficiently illuminate the roadway for its other "forgotten" users, such as pedestrians, bicyclists and those waiting for transit.
"The post–World War II proliferation of suburban development has caused developers to ignore the basic planning principles that were the foundation of most communities," says Marcia Scott, an associate policy scientist in the Institute for Public Administration (IPA), whose research examines transportation policy and planning.
Scott is part of a larger research team within IPA examining the issue of pedestrian lighting in unincorporated Delaware communities. The team, led by researcher Theodore Patterson, includes policy scientist Edward O'Donnell and graduate research assistant Ryan Gillespie. Together, they are analyzing best practices of pedestrian lighting in unincorporated areas, with respect to livability, environment, energy efficiency, financing and aesthetics. The team plans to form a working group with key transportation stakeholders and incorporate their input into working paper recommendations.
The researchers are not examining the extent of lighting throughout the state; rather, they are interested in the roles of responsibility and options for pedestrian lighting in unincorporated areas. For instance, if a community outside a city's limit recognizes a need for street lighting, where should they go to request it, and who is responsible for its installation and maintenance?
Preliminary research shows policy differences across Delaware's three counties with respect to requesting lighting in unincorporated areas. Still, until now, no research has examined the effectiveness and outcomes of such policies. And it is Sussex County — which has yet to implement a system for street and pedestrian lighting in unincorporated areas — that is experiencing the largest influx of an aging population who will require well-lit streets.
Funded by the Delaware Department of Transportation, the study builds off previous research that examined the safety, security and maintenance of multi-modal facilities in the state.
"Our goal is to bring awareness of the need to develop pedestrian lighting policies in unincorporated communities in Delaware that address design, safety, cost and maintenance issues but also promote walkability and a pedestrian-friendly environment," says Scott. "Lighting is an important issue for road safety, and our hope is that mothers with strollers and grandfathers with canes will be able to walk in their communities on safe, well-lit sidewalks and pedestrian pathways."